Exclusive
Donald Sterling's Alleged Mistress V. Stiviano Doesn't Think NBA Owners Want Him To Lose Clippers: Fear Of Player Boycott To Blame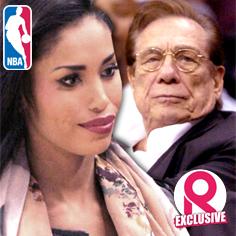 V. Stiviano believes that NBA owners don't want to oust Donald Sterling as the owner of the Los Angeles Clippers , and it's only being broached because the players in the league have threatened a boycott if the racist octogenarian isn't removed, RadarOnline.com is exclusively reporting.
The Board Of Governors for the NBA, comprised of the 22 owners, must vote by a majority of seventy-five percent to remove Sterling.
Article continues below advertisement
"The owners are a very tight group, and V just doesn't believe they want to remove Donald as owner. Instead, if there wasn't a threat of a player boycott if Donald isn't removed, V thinks the owners would have sought harsh fines and a large contribution to a charity."
It has been almost three weeks since NBA Commissioner Adam Silver announced Sterling would be banned for life from the league, and slapped with the maximum $2.5 million fine.
Article continues below advertisement
Earlier this week director Spike Lee, appearing on Anderson Cooper's show on CNN asked, "Why is it taking so long?" to get Sterling removed.
RadarOnline.com broke the story: on Wednesday, Stiviano met with the NBA investigator David Anders, appointed by Silver after Sterling's racist rants were made public.
Silver launched an investigation into Clippers co-owner, Shelly, shortly after issuing Donald's lifetime ban.
"The NBA is thoroughly looking into Shelly Sterling's background as she attempts to retain 50 percent ownership of the team going forward," the source said.
Shelly's plan to keep 50 percent ownership of the Los Angeles Clippers will be an uphill battle.
Under Shelly's proposal, husband Donald would still be a 25 percent co-owner of her share of the team because California is a community property state.
Shelly has publicly said she planned on filing for divorce from Donald for the last twenty years, but attorneys recently told her that now wasn't the right time to do so.
Meanwhile, V. knows "that losing the Clippers would just be devastating to Donald. He loves the team so much, and being a part of the league. It's just a very sad turn of events that got Donald in this situation," the source added.