Exclusive
Shelly Sterling Under Scrutiny! V Stiviano Currently Meeting With NBA Investigator To Discuss Donald Sterling's Wife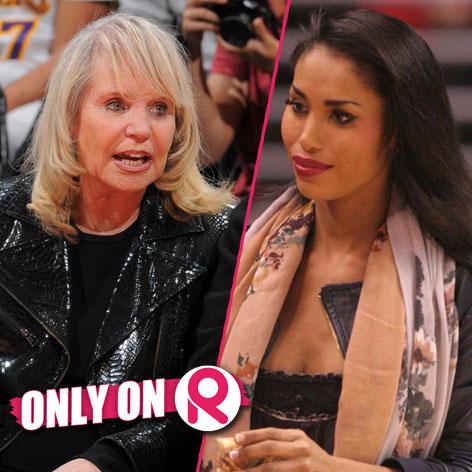 V Stiviano is currently meeting with NBA investigator David Anders to discuss Los Angeles Clipper's owner Donald Sterling's wife, Shelly, as she tries to gain 50 percent control of the team, RadarOnline.com is exclusively reporting.
"David Anders is meeting with V. Stiviano at her lawyer Mac Nehoray's office. The meeting started at 3:30, and it's expected to go at least several hours," a source confirmed to RadarOnline.com.
Article continues below advertisement
"David wants to listen to audio tapes that V. has of Shelly but because she is being sued by Donald's wife, that might not happen."
As RadarOnline.com has previously reported league commissioner Adam Silver launched an investigation into Clippers co-owner, Shelly, shortly after issuing Donald's lifetime ban.
"The NBA is thoroughly looking into Shelly Sterling's background as she attempts to retain 50 percent ownership of the team going forward," the source said.
MORE ON:
Los Angeles Clippers
But sources tell RadarOnline.com there is no evidence, "Shelly is racist or has made any similar comments that Donald has made. However, Shelly has been married to Donald for over fifty years, and she must have heard him say those things or witnessed such behavior in the past.
"The audiotapes don't contain any racist comments on behalf of Shelly."
However, Shelly's plans to keep 50 percent ownership of the Los Angeles Clippers will be an uphill battle.
Under Shelly's proposal, husband Donald would still be a 25 percent co-owner of her share of the team because California is a community property state.
Shelly Sterling has publicly said she planned on filing for divorce from Donald for the last twenty years, but attorneys recently told her that now wasn't the right time to do so.
Stay tuned to RadarOnline.com for further developments.