Exclusive
Donald Sterling Racism Scandal Widens: His Wife Shelly Officially Under Investigation By NBA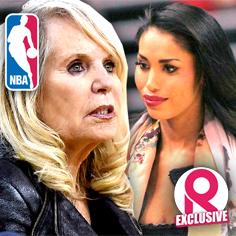 Article continues below advertisement
As RadarOnline.com has reported, Stiviano has audio and videotapes of Shelly which will "definitely raise eyebrows" according to a source.
Now, David Ander, the attorney appointed by Silver to investigate Donald's racist rants, has "reached out to V." about Shelly, the source claimed.
"David wants to meet with her to interview her specifically, and only regarding Shelly Sterling," a source revealed. "V. previously discussed Donald's racist rants with David. Now, David wants to listen to and watch audio and videotapes that V. has of Shelly. It's a very interesting turn, and V. plans on cooperating as much as possible, but she is being sued by Shelly."
The Shelly tapes — in which the estranged wife of banned owner Donald Sterling's heard speaking in an "extremely candid, unfiltered and very different" tone than how she's been heard before — will be made public because her lawyers have demanded it as part of the discovery process in her lawsuit against Stiviano, sources tell RadarOnline.com.
"While Shelly doesn't make any racist comments, it gives the public an inside look into who she really is behind closed doors," the source said. "She also swears like a sailor. Her tapes will definitely raise eyebrows. She was absolutely aware of Donald's racist views, and did nothing to distance herself in the past from it."
Article continues below advertisement
Married to Los Angeles Clippers owner Donald for more than half a century, Shelly has watched him lavish millions of dollars on his gal pal Stiviano the past few years. She wants the spending stopped and the money back, as noted in the suit she filed against the visor-clad pap magnet.
According to the lawsuit, Donald has used their community funds to lavish a multiple of gifts on Stiviano including a $1.8 million condominium, Ferrari, and other luxury cars. Legal experts have said Shelly likely won't prevail in the lawsuit because Donald gave the gifts to Stiviano as gifts.
In her only public comments since the scandal broke, Shelly released a statement last weekend, supporting Silver appointing a new CEO for the Clippers.
"I spoke with Commissioner Adam Silver this week to tell him that I fully supported his recent swift and decisive action," she said. "We also agreed at that time that, as a next step, both the league and the team should work together to find some fresh, accomplished executive leadership for the Clippers. I welcome his active involvement in the search for a person of the utmost character, proven excellence and a commitment to promoting equality and inclusiveness. As a co-owner, I am fully committed to taking the necessary steps to make the Clippers the best team in the NBA. That has been my aspiration ever since 1981."
The Clippers are currently in the NBA play-offs and Shelly has attended all of the games since Donald's racist rants were made public.
A rep for Shelly Sterling had no comment. Request for comment from Ander and Stiviano weren't immediately returned.