Exclusive
I Did Not Have Sexual Relations With That Woman! Donald Sterling Denies Affair With V. Stiviano In Secret Bombshell Audiotapes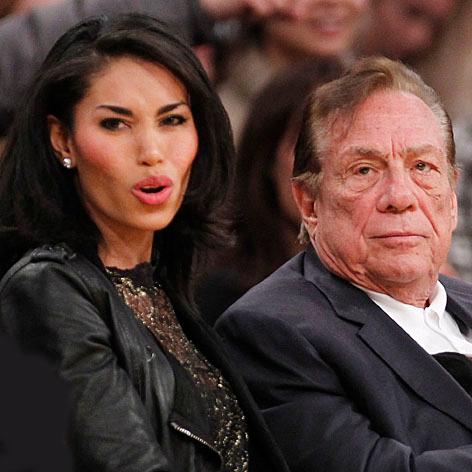 Golddigger? He hardly knew her! Soon-to-be ex-owner of the Los Angeles Clippers, Donald Sterling insists he didn't have a sexual relationship with gal pal V. Stiviano in bombshell new audiotape recordings, RadarOnline.com has exclusively learned.
"Donald admits on audiotapes recorded by V., that the two have never had a sexual relationship," a source told RadarOnline.com. "It comes up several times..."
"It was more of a father-daughter relationship," the source continued. "V. is extremely intelligent and beautiful, and Donald likes to be around attractive women. It boosts his ego. He is extremely insecure."
Article continues below advertisement
Audiotape of Sterling's racist rants to Stiviano were leaked to the media last week. Soon after, NBA Commissioner Adam Silver banned Sterling for life from the league, and urged team owners to force the 80-year-old to sell the Los Angeles Clippers.
"The man whose voice is heard on the recording and a second recording IS Mr. Sterling. And that the hateful opinions voiced by that man are by Mr. Sterling," Silver said, telling the press conference that the words are "Deeply offensive and harmful."
He said that he is going to urge the NBA Board of Governor's to force Sterling to sell the Los Angeles Clippers basketball team.
"That they came from an NBA owner only heightens the damage and my personal outrage," he said.
Stiviano's BFF Karrine Steffans, previously told RadarOnline.com that the relationship between Stiviano, and the disgraced Clippers owner was strictly professional.
"People are giving her too much credit and prowess. She worked for him and she had a personal relationship with him," she said. "Did he love her? Yes. Did she love him as a person and a friend? Yes."
"But it wasn't physical," Steffans insisted. "If he gifted her things, that was of his own accord. Someone like V. is not going to have sex with an 80-year-old man. That's not going to happen. Even in girl talk when we were drinking she said just the opposite of being his mistress. She said, 'I would never. Look at him!'"
What's more, "V. hasn't spoken to Donald since the audiotapes went public," the source revealed. "She spoke to Donald the day before the leak and that was the last time. It has been a very long and tough week for her. Under the circumstances, she is doing well."