Exclusive
'She's Making A Mockery Of Something Very Serious': Former BFF Of Donald Sterling Mistress Slams Her For Seeking Spotlight In Wake Of Racism Scandal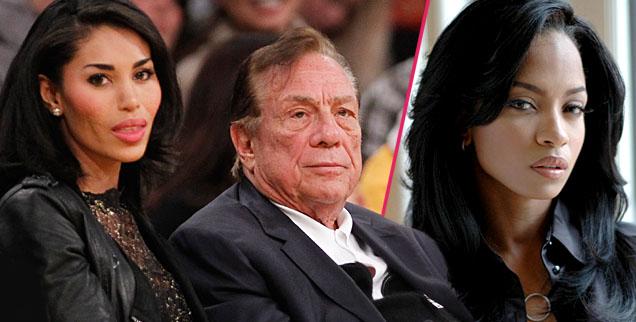 V. Stiviano wasn't the least bit shy when she posted sexy selfie after sexy selfie in her skimpy bikinis atop her Bentley and Ferrari. But after the controversial audio recordings surfaced of Donald Sterling's much-younger girlfriend grilling the Los Angeles Clippers owner about his racist views, she's been uncharacteristically covering up in that ridiculous reflective visor. Now, her former friend tells RadarOnline.com exclusively that Stiviano's outrageous attempt to keep a low profile is all an act.
Article continues below advertisement
Despite Stiviano's attorney telling the L.A. Times that his client doesn't know who leaked the audio recordings that outed the billionaire basketball owner as a racist, Karrine Steffans -- who's been a close confidante of the woman at the center of the scandal -- claims Stiviano started wearing the crazy-looking headpiece the day BEFORE the story broke – and before anyone even knew her name.
"She told me, 'I know what I'm doing,'" Steffans told Radar. "She was preparing for this moment."
Steffans, who met the 38-year-old Stiviano through friends and has recently posted pics of their budding friendship on Instagram, got a glimpse of her new disguise when they met up at Los Angeles restaurant Toast on April 25.
"I was embarrassed. I told her, 'Will you please take that off? Everyone is looking at you and I'm here with you. I'm embarrassed for you. This is not even cool,'" she added.
"I don't like people looking at me," Steffans continued. "I don't like unwanted attention. That's not good attention."
MORE ON:
Los Angeles Clippers
Article continues below advertisement
Steffans, a reformed hip hop video model and party girl, who's behind the New York Times bestseller Confessions of a Video Vixen, knew what Stiviano was doing.
"It's so that you can ask, what's it for? Does it make you not want to take a photo of her? You want to take photos more because it's so weird," she explained.
In fact, Steffans said she tried to talk some sense into her.
"I told her you don't want to do this. You have to show your face. Because one day they will stop asking about you.
"You're making a show of something very serious," she added. "This is not a show. You're making a mockery of something very serious."
Steffans says she has experienced what it's like to be called "mistresses, whores and sluts" and these scandal stories don't always have a happy ending: "It doesn't end all that well. I don't know what's next for her," she said.
"The only gains here are monetary and then what? That runs out too."
Steffans admits that since the two gal pals have been linked online, she's had to go on the offensive, which led to an argument with Stiviano and her team.
"I don't want people thinking I'm helping her write a book. I'm not," she said. "I can't have everyone thinking I condone this or am helping her.
"I don't want to throw her under the bus," she added, after the two got into an argument about Steffans' recent comments in the press. "I told her 'I can support you even though I don't agree with you… you may have made the wrong decision, but it doesn't mean you're a bad girl.'"