Exclusive
Donald Sterling's Estranged Wife Has 'No Immediate Plans' To File For Divorce Despite His Racist Comments & Mistress, Claims Source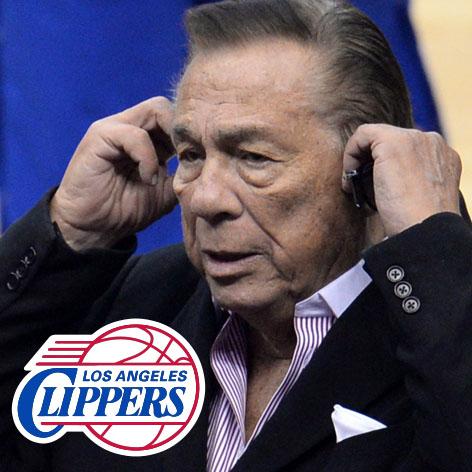 Embattled L.A. Clippers owner Donald Sterling's estranged wife, Shelly, could be taking "stand by your man" to a whole new level. Even after her spouse was exposed for making racial slurs on audiotape, and having a four-year affair with a much younger woman, a source close to the situation claims she has no immediate plans to file for divorce!
"Shelly has no immediate plans to divorce Donald," an insider tells RadarOnline.com exclusively. "They remain the best of friends, and have been separated for years." In fact, she was spotted out with him last night in Los Angeles.
Article continues below advertisement
"One of the reasons Shelly has no plans to file is purely financial," the source explains. "It would just cost them too much money -- both are extremely cheap. Shelly is actively involved in the family real estate business and is a co-owner of almost all of the apartment buildings Donald owns in Southern California. They are the single largest owner of apartment building in Los Angeles County. For them to divorce, it would entail having all of those properties appraised, calculate rental income for each unit. It would be extremely costly and time consuming."
In addition, the source adds, "The taxes they would have to pay as single individuals rather than as a married couple would be significant. It really all comes down to the money."
"Secondly, Shelly is suing Donald's former mistress, Vanessa Stiviano for gifts, cars and real estate he gifted to her," the source reveals. "In her lawsuit, Shelly is seeking $1.8 million which she believes Donald spent on Vanessa. She has very little chance of ever recovering that money because Donald gave those gifts to Vanessa. However, Shelly would be able to recover that money from Donald if she chose to divorce him, because the argument would be community marital funds were used on his mistress. The fact Shelly is suing V and hasn't filed for divorce from Donald speaks volumes."
Article continues below advertisement
Sterling, 80, is now in the spotlight after his racist comments to Stiviano were leaked to the media, but he has been openly dating her for almost four years. By filing the lawsuit, his wife is simply "seeking to protect and recover community property in her individual capacity," according to court documents.
The lawsuit claims that Sterling has used their community funds to lavish a multiple of gifts on Stiviano, who has five aliases.
Those gifts allegedly include $1.8 million for the purchase of an apartment in downtown L.A., $240,000 in living expenses, a Ferrari, two Bentleys and a Range Rover!
Stiviano has enjoyed showing off her lover's generosity and has frequently posted photos of herself with his gifts on her Instagram account.
The March 7 lawsuit also alleges that Sterling himself had asked Stiviano to return the money.
Fallout from the scandal continued on Monday as Carmax, Virgin America, Corona, and a slew of other sponsors announced they were dropping their support for the Los Angeles Clippers.
On Tuesday, the Clippers will play a pivotal game five in the Western Conference Playoffs against the Golden State Warriors, and the NBA is expected to hold a press conference regarding the investigation into Sterling's comments.
Reverend Al Sharpton has also announced plans to stage a protest at the Staples Center before the game begins.