Listen: Shock New Audio Exposes L.A. Clippers Boss Racist Rants -- Girlfriend Offers To 'Remove All Black People' From Her Instagram To Make Him Happy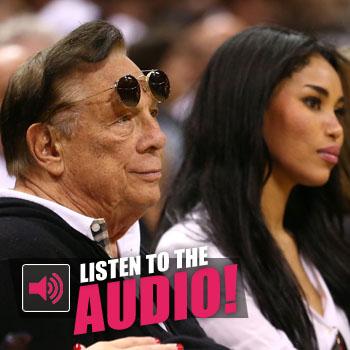 Donald Sterling's shockingly racist views -- that now have the whole country talking -- were voiced in a lengthy argument with his girlfriend Vanessa Stiviano with him wanting her to remove all photos of African-Americans from her Instagram account.
Stiviano didn't understand why Magic Johnson and Los Angeles Dodgers star Matt Kemp had to go.
"I thought Matt Kemp is mixed, and he was OK, just like me....He's lighter and whiter than me....I met his mother."
Article continues below advertisement
But Sterling only responds with a passive OK so Stiviano offers to go another step.
"Honey, if it makes you happy, I will remove all the black people from my Instagram," Stiviano says in the audio first obtained by Deadspin.
Stiviano, 38, tries to settle her 80-year-old married boyfriend, owner of the Los Angeles Clippers down by offering to get him "more juice" and she frequently can be heard calling him "honey" and "sweetie."
You can listen to the audio here:
https://media.radaronline.com/brand-img/wp-content/0x0/2014/04/sterling-audio-full.mp3
Despite that, Sterling insists she "loves to fight. You fight with everybody."
Stiviano never raises her voice as she tries to argue with Sterling, who is Jewish, that his remarks are as discriminatory as prejudice against Jews.
The basketball team owner insists he is not racist. After all, he says, he helps his black players put food on the table and buy cars. The problem, he says, is "the culture" not him.