Audiotape Of Donald Sterling's Wife In Suit Against V. Stiviano 'Will Definitely Raise Eyebrows'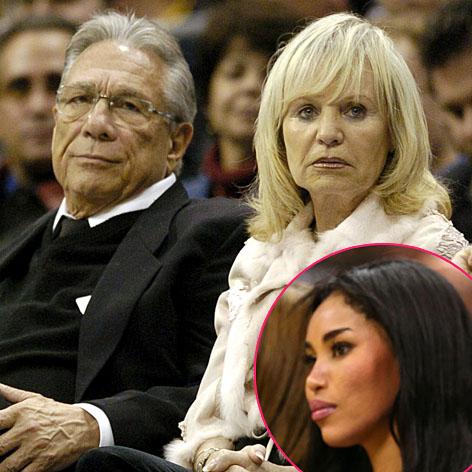 Tapes of Shelly Sterling's voice might be the next heard publicly, RadarOnline.com is exclusively reporting, as recordings of the Los Angeles Clippers co-owner, cursing like a longshoreman, could come to light in her ongoing lawsuit against V. Stiviano.
The Shelly Sterling tapes — in which the estranged wife of banned owner Donald Sterling's heard speaking in an "extremely candid, unfiltered and very different" tone than how she's been heard publicly — will be made public because her lawyers have demanded it as part of the discovery process in the next several weeks, sources tell RadarOnline.com.
Article continues below advertisement
"While Shelly doesn't make any racist comments, it gives the public an inside look into who she really is behind closed doors," the source said. "She also swears like a sailor. Her tapes will definitely raise eyebrows.
"She was absolutely aware of Donald's racist views, and did nothing to distance herself in the past from it."
Married to Los Angeles Clippers owner Donald Sterling for 50 years, Shelly has watched him lavish millions of dollars on his girlfriend Stiviano the past few years. She wants the spending stopped and the money back, as noted in the suit she filed against the visor-clad pap magnet.
Sterling, 80, was banned for life from the NBA by Commissioner Adam Silver because of the controversy over racist comments — with his permission, recorded by Stiviano — according to reports.
According to the lawsuit, Donald Sterling has used their community funds to lavish a multiple of gifts on Stiviano including a $1.8 million condominium, Ferrari, and other luxury cars. Legal experts have said Shelly likely won't prevail in the lawsuit because Donald gave the gifts to V as gifts.
Article continues below advertisement
RadarOnline.com broke the story that Shelly has NO plans to divorce her racist hubby.
"In her lawsuit, Shelly is seeking $1.8 million which she believes Donald spent on Vanessa," a source previously told us. "She has very little chance of ever recovering that money because Donald gave those gifts to Vanessa.
"However, Shelly would be able to recover that money from Donald if she chose to divorce him, because the argument would be community marital funds were used on his mistress. The fact Shelly is suing V and hasn't filed for divorce from Donald speaks volumes."
Request for comment from Shelly Sterling wasn't immediately returned at time of publication.
We'll keep you updated on the latest in this story, right here on RadarOnline.com.