Los Angeles Clippers Owner Donald Sterling Banned For LIFE From NBA, Fined $2.5 Million -- Will Be Urged To Sell Team Immediately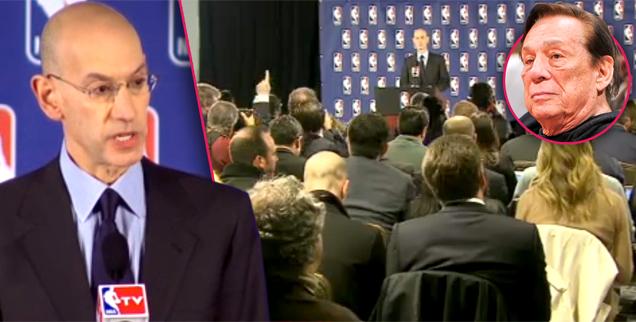 Donald Sterling has been banned for life from the NBA and fined $2.5 million NBA Commissioner Adam Silver said in a strongly worded press conference Tuesday afternoon, addressing his racist comments caught on tape.
"The man whose voice is heard on the recording and a second recording IS Mr. Sterling. And that the hateful opinions voiced by that man are by Mr. Sterling," Silver said, telling the press conference that the words are "Deeply offensive and harmful."
Article continues below advertisement
"He may not attend any NBA games or any practices," Silver said and said Sterling would be "Barred from attending NBA board of Governor's meetings or participating in any other league activity."
He also said he was financially punishing him with a "$2.5 million the maximum amount allowed in the NBA constitution."
While Sterling still owns the Clippers, Silver said he would "Urge the Board of Governor's to force a sale of the team and will do everything in my power to ensure that happens."
Article continues below advertisement
Silver said ended saying "We stand together in condemning Mr. Sterling's views. They simply have no place in the NBA."
The Los Angeles Clippers owner has come under fire for comments in the recording attributed to Sterling, where a man asked his girlfriend, Vanessa Stiviano, a woman of Mexican descent, not to broadcast her association with black people or bring black people to games.
When asked if he knew about Sterling's racist feelings prior to the release of the tape the NBA Commissioner said: "Nothing I've ever seen firsthand that would indicated he held the views that were expressed on these audio recordings."
Silver also said he is confident that he will be able to get ¾ of the owners in the League to force Sterling to sell the Clippers, saying: "I fully expect to get the support I need from the other NBA owners to remove him."
Stay with RadarOnline.com for updates to the Sterling and Clippers story.