Exclusive
'She Did Not Sleep With Him!' BFF Of Donald Sterling Mistress Says V Stiviano Was Repulsed By Clippers Owner -- But She Still Accepted His Gift$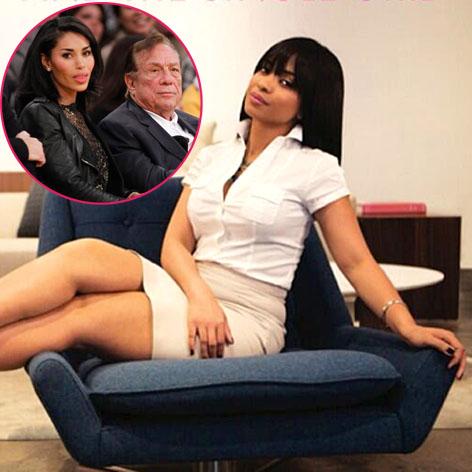 Talk about a benefits package. V Stiviano racked up luxury cars and a deluxe apartment thanks to her billionaire boss, Donald Sterling. But now, her BFF tells RadarOnline.com that she was not his mistress — just a really, really good employee!
Reformed video vixen-turned-NY Times bestselling author Karrine Steffans says the relationship between her BFF, Stiviano, and the disgraced Clippers owner was strictly professional.
Article continues below advertisement
"She worked for him, his foundation, the Clippers organization, as his right hand," Steffans told RadarOnline.com. "She was like an executive and did do personal things for him and at time doubled as a personal assistant because that happens sometimes."
Even though the 38-year-old Stiviano may have taken outrageous gifts form Sterling over the years, it doesn't mean she's taking him to bed, according to her BFF. In fact, Steffans added Stiviano couldn't stand the thought of the 80-year-old real estate mogul in the buff.
"People are giving her too much credit and prowess. She worked for him and she had a personal relationship with him," she said. "Did he love her? Yes. Did she love him as a person and a friend? Yes."
"But it wasn't physical," Steffans insisted. "If he gifted her things, that was of his own accord. Someone like V is not going to have sex with an 80-year-old man. That's not going to happen. Even in girl talk when we were drinking she said just the opposite of being his mistress. She said, 'I would never. Look at him!'"
Article continues below advertisement
After they were introduced by a mutual friend over a month ago and have documented their budding friendship on Instagram, Stiviano began to confide in Steffans about Sterling's racist views and the court case leveled against her by Sterling's wife, Shelly, alleging she embezzled expensive gifts from her husband after she was lavished with an $1.8 million home and sports cars over the span of four years.
"It was difficult for her to stay there (at work)," Steffans said. "She actually quit many times. She would say people are looking at her funny and 'people hate me now' because of the lawsuit. It was a very stressful work environment.
"If he was enamored with her, it's not her fault and not her problem," Steffans continued. "He needs to take it up with his wife, which is what he's doing."
Steffans was quick to point out that when her friend "stops being dramatic and the fairy and the girl on skates is gone" she's actually been very emotional about the scandal that has rocked the sports world.
Article continues below advertisement
"She told me she's hurting," she said. "You have to understand when you've worked with someone for three years -- they shared secrets, they laughed, they joked, she knows his family, they know her family. She's been a part of his life everyday life working with him and when the lawsuit was filed he didn't do anything, he just goes along with it."
She insisted, "When someone gives you things and then years later claims you stole them because of your feminine wiles...We all have them!
Hollywood Sexcapades — Tinseltown's 36 Sleaziest Prostitution Scandals
"For her, that was hurtful, when someone does nothing to defend her when she did nothing wrong," Steffans added. "When gifts were exchanged or given to her it wasn't a problem until recently. Years later, as if (Sterling) is not a free-willed person."
Do you think Sterling gifted Stiviano for her work ethic or something more? Let us know in the comments!