Exclusive
Donald Sterling's Gal Pal V Stiviano Receiving Death Threats & Seeking Counseling In Wake Of Racism Scandal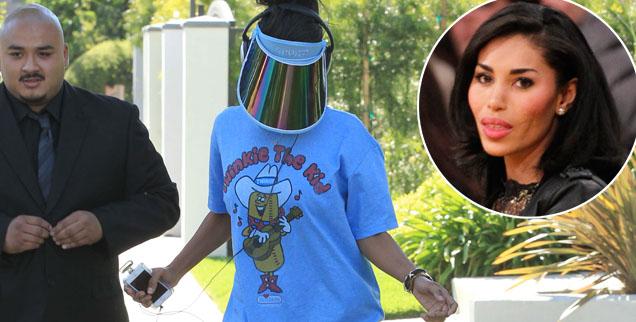 Donald Sterling isn't the only person who's come under fire since his racist rants were released last week. RadarOnline.com has learned that his gal pal, V Stiviano, has been receiving death threats, and is now seeing a counselor to deal with the fallout of the scandal!
"V started getting death threats almost immediately after Sterling's racist rants -- which she recorded -- were made public," a source told Radar. "Most of the threats were made on social media, and this is one of the reasons why she has scaled back her activity. It has been very scary for V, and she also hired a bodyguard."
Article continues below advertisement
"The remainder of the audiotapes are in a secure and safe location," the source continued. "V has also been in contact with a counselor to deal with the stress of the fallout of the scandal."
In the meantime, tapes of Sterling's wife, Shelly, might be the next heard publicly, as recordings of the Los Angeles Clippers co-owner cursing like a longshoreman could come to light in her ongoing lawsuit against Stiviano.
The Shelly Sterling tapes — in which the estranged wife of banned owner Donald Sterling's heard speaking in an "extremely candid, unfiltered and very different" tone than how she's been heard publicly — will be made public because her lawyers have demanded it as part of the discovery process in the next several weeks, sources revealed.
"While Shelly doesn't make any racist comments, it gives the public an inside look into who she really is behind closed doors," the source said. "She also swears like a sailor. Her tapes will definitely raise eyebrows.
Article continues below advertisement
"She was absolutely aware of Donald's racist views, and did nothing to distance herself in the past from it." Married to Los Angeles Clippers owner Sterling for 50 years, Shelly has watched him lavish millions of dollars on his girlfriend Stiviano the past few years. She wants the spending stopped and the money back, as noted in the suit she filed against the visor-clad pap magnet.
Sterling, 80, was banned for life from the NBA by Commissioner Adam Silver because of the controversy over the racist comments, recorded by Stiviano – who, sources insist, was not his lover.
According to a source, "V absolutely didn't have a sexual relationship with Donald. It was a strictly platonic relationship. Donald enjoyed the attention a young woman would give him. Yes, he did give her very extravagant gifts, but it was based on a friendship. If you listen to the leaked audiotapes, Donald is heard saying he doesn't care who V has sex with. That isn't something that a lover says to his alleged mistress!"