Exclusive
Revenge Of The Other Woman! V. Stiviano Pal Leaked Tape Of Donald Sterling's Racist Rant Because His Wife Sued Her, Source Claims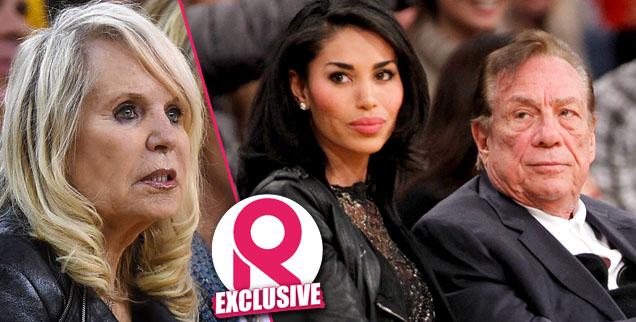 Embattled Los Angeles Clippers owner Donald Sterling has only himself to blame for the onslaught of criticism he's received since his racist rants went public. But sources tell RadarOnline.com that his wife, Shelly, is partly responsible for her husband's public shaming, since it was her lawsuit against his alleged mistress, V Stiviano that inspired someone close to Stiviano to leak the tapes in the first place!
Article continues below advertisement
"There is absolutely no question, if Shelly hadn't filed that ridiculous lawsuit against V., those racist rants Donald made never would have been made public," an insider told RadarOnline.com. "It was arrogant, ridiculous, and just bad legal judgment to even file the suit."
"Shelly won't be able to recover any of the property or money Donald gave V., because it was gifted to her," the source continued. "Under California law, a spouse can't go after a mistress or lover and recover damages. California is a no-fault divorce state."
"Shelly could recover the money Donald spent on V. IF she filed for divorce," the source points out, "claiming he spent marital assets/community property on her."
But she decided to go after Stiviano instead of her husband, and so, the source said, "it prompted someone close to V to sell the tapes to the media."
V Stiviano's lawyer, Mac Nehoray told RadarOnline.com exclusively, "My client absolutely didn't sell or release the tapes herself. She has an idea as to who might have done it, a close friend of hers, who had access to it. V. is taking this lawsuit very seriously, and will defend herself, and we hope to have the case dismissed."
Article continues below advertisement
Married to Los Angeles Clippers owner for 50 years, Shelly has watched him lavish millions of dollars on his girlfriend Stiviano. She wants the spending stopped and the money back, as noted in the suit she filed against the visor-clad pap magnet.
Sterling, 80, was banned for life from the NBA by CommissionerAdam Silver because of the controversy over racist comments — with his permission, recorded by Stiviano — according to reports. Furthermore, Silver is urging the league's owners to force Sterling to sell the team.
According to the lawsuit, Donald has used his and Shelly's community funds to lavish a multiple of gifts on Stiviano, including a $1.8 million condominium, a Ferrari, and other luxury cars. Legal experts have said Shelly likely won't prevail in the lawsuit because Donald gave the items to V. as gifts.
On Friday night, Stiviano was interviewed by Barbara Walters, and insisted, "I became part of Mr. Sterling's team …protected him" and helped him "become a better person in every way."
Article continues below advertisement
And even when it came to his now-infamous taped remarks, telling her not to bring "black people" to Clippers games, she insisted Sterling isn't a racist.
He "can't even believe or understand sometimes the thing he says, and I think he's hurt by it. He's hurting right now," the woman at the center of the storm told Walters.
But is she is love with the married 80-year-old Sterling? No, the 31-year-old Stiviano said, admitting, "I love him like a father figure."
Meanwhile, the drama isn't over yet. As RadarOnline.com reported, tapes of Shelly's voice might be the next heard publicly, as recordings of her cursing like a longshoreman could come to light in her ongoing lawsuit against Stiviano.
"While Shelly doesn't make any racist comments, it gives the public an inside look into who she really is behind closed doors," the source said. "She also swears like a sailor. Her tapes will definitely raise eyebrows.
The source said, "She was absolutely aware of Donald's racist views, and did nothing to distance herself in the past from it."
Our source says, "Once all of the dust is settled with Shelly's lawsuit against V, ownership of the Clippers, she will very likely regret ever filing the action. So much has already been lost since Shelly filed it. She will have to ask herself, 'was it worth it?'"