Controversy: Hollywood Celebrities Refuse To Boycott Beverly Hills Hotel -- 'The Staff Has Families To Support'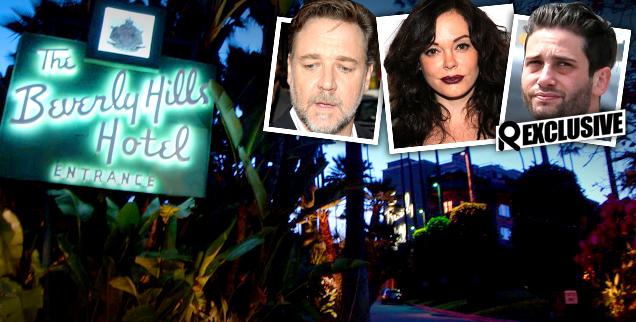 Russell Crowe and Rose McGowan are refusing to boycott the Beverly Hills Hotel, after other celebrities including Ellen DeGeneres and Sharon Osbourne publicly stated they wouldn't be doing business at the iconic landmark, after the owner, the Sultan of Brunei enacted conservative Islamic laws that call for the stoning death of homosexuals and adulterers in his oil rich country.
"Throwing the staff of Dorchester Collection Hotels under the bus to make a political point is not acceptable to me," Crowe recently tweeted.
Article continues below advertisement
"These are hard-working people with families, and I guarantee you they come from all walks of life."
Crowe added, "The decision to enact these laws is reprehensible and horrifying. Pressure your govt to cease trade contact, refuse to use Brunei oil."
Indeed, President Obama is fast tracking Brunei to full membership into the Trans-Pacific Partnership, and according to reports, the "special trade agreement would bind the U.S. to Brunei and give the Islamic Sultanate special economic privileges."
Charmed star McGowan hosted a 'gay in' cocktail party at the Beverly Hills Hotel.
Having once lived at the hotel for five months, McGowan told the Huffington Post she wanted to "assemble a group of men and women (and hopefully some adulteresses,) that would be stoned in Brunei but that will be welcome at the BH."
"Boycotts only work when they hurt the target's bottom line," McGowan argued. "We are never going to affect the sultan's bottom line. He's worth $20 billion! This is a vanity project for him. It could sit empty for 100 years and he wouldn't even notice. But meanwhile, we're hurting all the wonderful, struggling people who work in the hotel."
Article continues below advertisement
"Trust me -- the person who's suffering right now is not the sultan," McGowan said. "It's my friend Ruth, who's been working in the diner downstairs for years, and can barely pay her rent."
Josh Flagg, star of Bravo's Million Dollar Listing, also pledged his support on social media, "I whole heartedly agree with this and have agreed with this for the past month and a half. The Beverly Hills Hotel is a 102 year old institution, that has been a pillar in the community for everyone. Just because a disgusting psychopath owns the property, I refuse to stop going there and i am tired of all these celebs telling people not to go there. This has gotten ridiculous.
"The staff has families to support, and not going to the hotel will not make a dent in the sultan's pocket book. Read this article. The staff are wonderful people, they have been there for us all of these years (at least for me), they are my friends, and i don't care what anyone says... I am going to go there and have a Mccarthy salad and give my waiter a nice fat healthy tip," the openly gay realtor added.