Jenelle Evans' Boyfriend Slams Gay Rumors, Says 'Sodomy Is Against My Religion'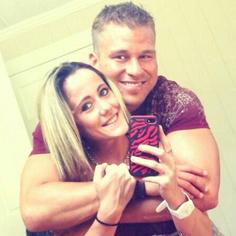 Jenelle Evans' hot new boyfriend has been plagued by gay rumors lately so he addressed them directly with a rant saying that sodomy is against his religion.
Nathan Griffith is coming out swinging in his defense of his heterosexuality, posting a long missive detailing where he has been living and working for the last few years that would make him unable to film gay porn and saying that his religion prevents him from being gay.
Article continues below advertisement
"My mom was and is a minister," Nathan wrote to his girlfriend who shared it on her Twitter.
"My family is religious and I'm not trying to be a hater but God burned the cities of Sodom and Gomorrah. Um sodomy is against my religion sorry to disappoint you."
The Teen Mom's live in boyfriend says that he is an underwear model and so he can't do porn because "it is in the third paragraph of my contract and any clothed models contract NO PORN OR PROMOTIONAL PICTURES."
Claiming that he would profit immensely from doing adult films, Nathan wrote: "Why the hell do I have to make three incomes if I did stuff like that."
A former Marine, Nathan slammed the online abuse he claims to be getting.
"Thanks for your time and God truly needs to bless anyone who has the time to cause so much drama and controversy that I proudly stood up and protected your damn rights so I could come back from a combat zone to get ridiculed and slander by the people I serve so they could sit on their a** by a computer and talk sh*t."
Jenelle also previously weighed in on the controversy, defending her boyfriend by saying "Nathan is NOT gay."