'Hypocrite'! Sharon Osbourne Slammed For Black Sabbath & Ozzy's Concert In Sharia Law Center Abu Dhabi After Beverly Hills Hotel Boycott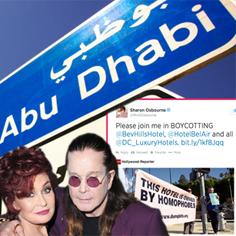 Article continues below advertisement
As Black Sabbath held a press conference on May 28, Sharon was on hand as Ozzy spoke to the crowd in the where Sharia law is in effect and sodomy may be punishable by death.
The outrage was swift against Sharon on line, with critics labeling the rocker wife a "hypocrite" for the concert location and support.
"Sometimes people just do things based on emotion and without thought," website Zennie62.com wrote about Sharon.
"The bottom line is the Sultan of Brunei's not going to sell a property who's very value has been inflated by the boycott, even while its workers get hurt in the pocketbook, and Sharon Osbourne runs around the World acting like a hypocrite."
Seemingly oblivious to the contradiction in her stance against the workers of the Beverly Hills Hotel and her husband's band performing in an area with the same strict laws, Sharon has yet to justify the band's appearance in Abu Dhabi or her own visit to the conservative area.
Do you believe Sharon Osbourne is a hypocrite? Sound off in comments below!