Risqué Rihanna: Pop Star Kicked Out of Abu Dhabi's Grand Mosque For Taking Sexy Instagram Selfies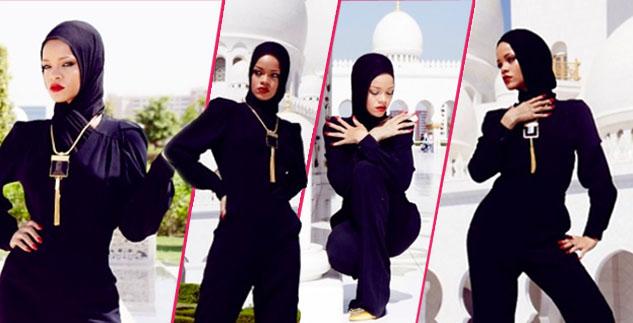 Rihanna caused an international incident after she posed for photos at Abu Dhabi's Sheikh Zayed Grand Mosque this weekend, RadarOnline.com Online has learned.
The 25-year-old pop star was kicked off the sacred grounds after she posted several photos of herself posing on the white marble on Saturday. In the selfies, with colorful captions like "B**ch stole my look," Rihanna is dressed in a conservative black jumpsuit and head covering, while striking high fashion poses.
Article continues below advertisement
According to the mosque's statement, Rihanna was in an area normally off limits for visitors, and the fashion photo session violated rules on the "status and sanctity of the mosque."
"The Centre strives to ensure that visitors enter the mosque in a decent fashion, and refrain from behaving in any way that is inconsistent with the sanctity of this religious place," the statement read. "Here, the Centre refers to a recent incident, involving a singer who came for a private visit to the mosque, at a gate that is not reserved for visitors, without prior coordination with the Centre's management and without identifying herself."
Rihanna has not yet publicly responded to the actions by staff at the Grand Mosque.
Commenters on Rihanna's selfies had mixed feelings about the photo shoot.
"This is disrespectful, period... It's ignorant and attention seeking," one person wrote, while another praised Rihanna calling the portraits "perfect, beautiful, amazing."