Gwyneth Paltrow Asking A-List Friends To Boycott 'Vanity Fair' Oscars Party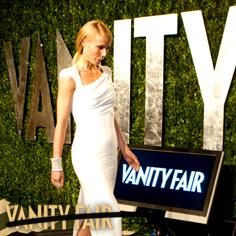 Article continues below advertisement
As RadarOnline.com previously reported, a mass email she sent to her pals begging them not to participate in the magazine's expose was revealed stating: "If you are asked for quotes or comments, please decline. Also, I recommend you all never do this magazine again."
The fuss started when Vanity Fair's editor-in-chief Graydon Carter expressed his hard-hitting approach to Paltrow when she decided to decline cooperation with the magazine for a cover story featuring her.
"We wouldn't be doing our job if there wasn't a little bit of tension between Vanity Fair and its subjects," Carter said.
"In any given week, I can expect to hear from a disgruntled subject in Hollywood, Washington, or on Wall Street. That's the nature of the beast."
Once known for fawning puff pieces on Hollywood elite, VF has developed a sharper edge in recent months, with critical pieces on Tom Cruise and Scientology, as well as Paltrow's ex, Brad Pitt's struggles to produce his zombie movie, World War Z.