Brad Pitt's World War Z Set Raided By Hungarian Anti-Terrorism Unit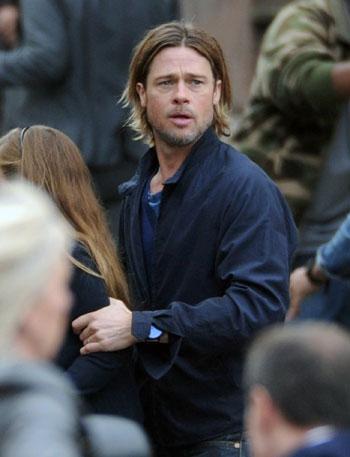 Forget battling zombies, Brad Pitt had a whole other lot of problems recently when the set of his new movie, World War Z was raided by the Hungarian anti-terrorism unit!
A SWAT team swooped in Monday and seized a cache of unauthorized weapons that were being held in a warehouse in Budapest for use on the movie, according to US Weekly.
The cops took a total of 85 functional weapons, many of which were automatic assault rifles, which had been sold on the basis they were non-functional, when in fact they were in full working order.
Article continues below advertisement
"This morning a private plane brought guns wrapped in a parcel from a company to an individual in Budapest," Hajdu Janos and Zsolt Bodnar, the director and deputy director of Hungary's Anti-Terrorism Unit, told US Weekly. "Guns like these are highly illegal to transport even if they were to used as stage guns, which hopefully they weren't."
Pitt is in the clear however, and the unit is quizzing employees from the movie company. "The movie company's employees must have made a mistake bringing the guns in without the Anti-Terrorism Unit's permission," Janos said. "We are interrogating witnesses now, getting closer to solving the firearms story."