Brad Pitt: 'I Have A Knack For Stepping Into Sh*t'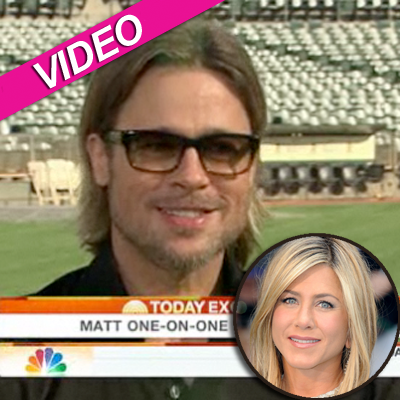 Brad Pitt continues to make amends for his controversial comments about Jennifer Aniston last week, calling his ex wife "good people" in an interview with The Today Show's Matt Lauer Thursday.
"She's good people," the king of the A-list told Lauer. "She, you know, there, there should be a statute of limitations on this."
When Lauer attempted to read the lightning rod interview back at him, Pitt pleaded, "No, I, you know, please don't read it ... "
Article continues below advertisement
(We'll remind you what Brad told Parade: "I spent the '90s trying to hide out ... I started to get sick of myself sitting on a couch, holding a joint, hiding out. It started feeling pathetic ... I wasn't living an interesting life myself. I think that my marriage to Aniston had something to do with it. Trying to pretend the marriage was something that it wasn't.")
Back to Brad, he said he doesn't read that stuff.
"I don't want to be encumbered by any of that," Pitt said. "I know my intentions, and I know what I believe, and I know things get misconstrued. I live outside of, of that, and it's much healthier."
Pitt said he released a subsequent statement clarifying the comments because he didn't "want to say anything bad like that about Jen.
"She's a valuable person," he said of Aniston, who he left in 2005 to be with his Mr. & Mrs. Smith co-star, and current partner, Angelina Jolie. "We spent seven years together."
Article continues below advertisement
Asked what lesson he learned from the whole fiasco, Pitt said, "Don't talk" to the media, we presume.
Watch the video on RadarOnline.com
"I don't wanna live on guard and I should be more on guard, I guess," he said. "It's always been a part of the territory. I've got a knack for stepping into sh*t. And it's OK. It's alright.
Pitt plays genius Oakland Athletics G.M. Billy Beane in the upcoming biopic Moneyball, which hits theaters Friday.