Brad Pitt Not Hiding Out After Jennifer Aniston Comments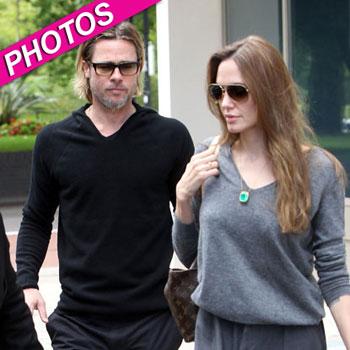 Although some might think he should, Brad Pitt is not hiding out after his comments trashing his marriage to Jennifer Aniston.
RadarOnline.com found the star Sunday morning, leaving the 45 Park Lane Hotel in London with his mate Angelina Jolie.
In an interview with Parade, Pitt described his years with Aniston in less than glowing terms. "I wasn't living an interesting life," he said, adding that he was "trying to pretend the marriage was something that it wasn't." He also raved about his life with Angelina, calling her the best thing to ever happen to him and the best mother he could ever imagine for his kids.
Article continues below advertisement
After hearing the roar of disapproval from Aniston fans, Pitt issued a statement clarifying his remarks. None of his unhappiness at the time was Jen's fault. The fact that he'd become "dull" was his own "responsibility," Brad said.
The controversy is bound to be short-lived though -- as most in Hollywood are -- when Pitt's next money Moneyball is released on Friday. The film -- and Brad -- are both earning rave reviews, and even Oscar talk.