Brad Pitt: 'I Wasn't Living An Interesting Life' While Married To Jennifer Aniston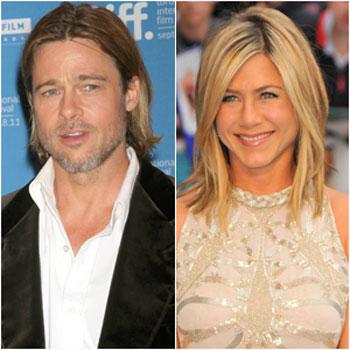 By Adam S. Levy - RadarOnline.com Staff Writer
So many celebrities try to stay politically correct, try not to ruffle feathers, and toe the company line; thankfully, Brad Pitt isn't one of them.
The king of the A-list opens up about his pursuit of happiness -- razzing ex Jennifer Aniston -- in the process in this weekend's edition of Parade magazine.
"I spent the '90s trying to hide out, trying to duck the full celebrity cacophony," Pitt tells Parade. "I started to get sick of myself sitting on a couch, holding a joint, hiding out. It started feeling pathetic.
Article continues below advertisement
"It became very clear to me that I was intent on trying to find a movie about an interesting life, but I wasn't living an interesting life myself," Pitt said of the decade, in which he drew moviegoers to theaters with films such as Se7en, Seven Years in Tibet, Meet Joe Black and Fight Club.
And then Brad dropped the bomb...
"I think that my marriage to actress Jennifer Aniston had something to do with it. Trying to pretend the marriage was something that it wasn't."
Ouch. (Brad famously left Aniston in 2005 after four years of marriage to be with his Mr. & Mrs. Smith co-star, and current partner, Angelina Jolie.)
He said he's much more satisfied with Angelina and their six children.
"I'm satisfied with making true choices and finding the woman I love, Angie, and building a family that I love so much. A family is a risky venture, because the greater the love, the greater the loss. … That's the trade-off. But I'll take it all. One of the greatest, smartest things I ever did was give my kids Angie as their mom," he tells Parade. "She is such a great mom. Oh, man, I'm so happy to have her."
Article continues below advertisement
Pitt, who plays genius Oakland Athletics G.M. Billy Beane in the upcoming biopic Moneyball, laughed off tabloid stories speculating on the health of the top-of-the-A-List couple.
"I mean, how many stories have you read that aren't true, stories about me and Angie being married or fighting or splitting up?" he said. "And when we don't split up, there's a whole new round that we've made up and we're back together again!