REPORT: Jennifer Aniston Breaks Down At Mother's Bedside After Stroke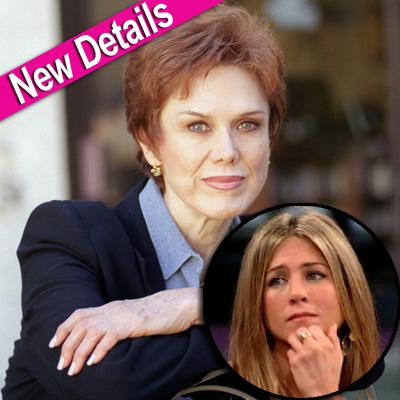 Jennifer Aniston "broke down uncontrollably" at her mother's bedside after she had a stroke, RadarOnline.com is reporting.
The former Friends star -- who was estranged from her mom Nancy Dow, 75, for 12 years after she gave an interview about their relationship in 1996 -- visited her in the hospital over the weekend after she suffered a brain seizure and was overcome with emotion as soon as she saw her.
Article continues below advertisement
A source told the Daily Mirror newspaper: "Jen headed for the Los Angeles hospital the second she heard. Nancy is desperately ill, and it is no exaggeration to say people fear the very worst.
"She's distraught. It was made more difficult because Nancy can't really speak at the moment. There is plenty they'd like to talk about."
Jennifer -- who was accompanied to the hospital by boyfriend Justin Theroux -- and her mother publicly fell out after Nancy went on TV and spoke about the 42-year-old star.
However, Jennifer previously confirmed she and her mother -- who was not invited to her wedding to Brad Pitt in 2000 -- were back on speaking terms after ending the rift in 2008.
She said: "It's good. It's OK. Things are now fine between us. All of that is over, and we're in touch with one another. We speak and it's all over."
Nancy -- who had Jennifer with actor John Aniston -- has previously written a book about their life, entitled From Mother and Daughter to Friends.