Jennifer Aniston & Justin Theroux Step Out In NYC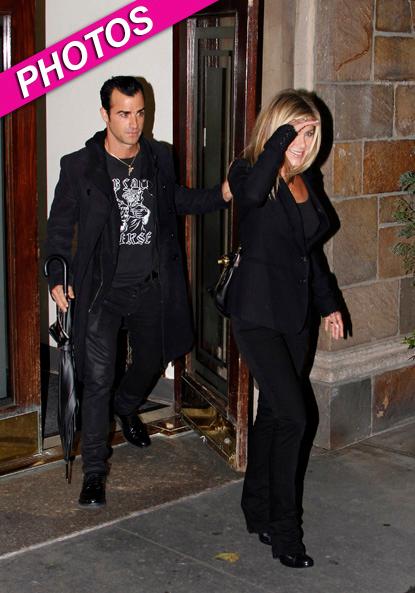 Start spreading the news…
Jennifer Aniston and Justin Theroux -- both looking chic in all black outfits -- enjoyed a night out on the town in New York Thursday night, and RadarOnline.com has the new pics of the A-list couple.
The Horrible Bosses star and her actor beau were snapped leaving her Big Apple apartment while heading to the Bloomingdale's 59th Street store for the launch of Nina and Clare Hallworth's Hoyle Jackson clothing line.
Article continues below advertisement
Jennifer, 42, and Justin, 40, also enjoyed a romantic dinner at trendy Italian eatery IL Mulino.
The couple has been splitting their time between New York and Los Angeles -- each has apartments in Manhattan and recently, they leased a home together in the City of Angels.
While the couple -- who met on the set of their upcoming film Wanderlust -- went public with their romance last May, their certainly doing their best to keep their private lives private.
Aniston has yet to talk in depth publicly about Theroux, and in the October issue of GQ magazine, the indie actor is profiled, but stays decidedly mum about his relationship with the former Mrs. Brad Pitt.
After discussing his love for riding his BMW and Ducati bikes around Europe and his personal soundtrack, which varies depending on the terrain of one of his bike rides, the actor and writer explains the story behind his beard.
Article continues below advertisement
Theroux, who sprouted the facial fuzz for his role as a cult leader in Wanderlust, just simply grew fond of the look.
"You establish all sorts of mannerisms with it," he explained. "Like when you're bored, you can feather your mustache."
But when asked how his new girlfriend responded to the look, the actor vaguely replied: "Certain chicks dig it; certain chicks don't."
Needless to say, days after the interview, Theroux's beard was gone!