Justin Theroux Avoids Talking Jennifer Aniston In GQ Interview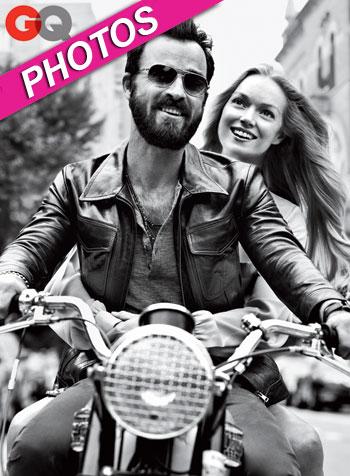 Article continues below advertisement
The smoking hot hipster, who recently traded in the NYC apartment he shared with ex-partner Heidi Bivens for a super luxe Los Angeles pad with Aniston, talks his bike, his beard and his favorite tunes – but avoids any Aniston chatter – with the fashion-forward men's magazine.
After discussing his love for riding his BMW and Ducati bikes around Europe and his personal soundtrack, which varies depending on the terrain of one of his bike rides, the actor and writer explains the story behind his beard.
Theroux, who sprouted the facial fuzz for his role as a cult leader in Wanderlust, just simply grew fond of the look.
"You establish all sorts of mannerisms with it," he explained. "Like when you're bored, you can feather your mustache."
But when asked how his new girlfriend responded to the look, the actor vaguely replied: "Certain chicks dig it; certain chicks don't."
Needless to say, days after the interview, Theroux's beard was gone!