Exclusive
'Where's Your Kid?' As Kim Kardashian & Kanye West Travel The World, Fans Slam Them For Leaving North — AKA 'Ignori' & 'Norphan' — With Nannies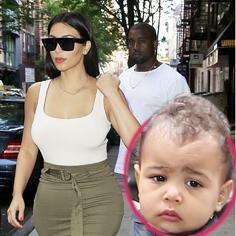 With stops in Cannes, Florence, New York, and Miami in just the past few days, Kim Kardashian and Kanye West have been living the jet set lifestyle in the weeks since their wedding. But as their daughter, North West, stays home with nannies, RadarOnline.com has learned that fans are slamming the new parents online for taking time away from their daughter — even going so far as to call the one-year-old "Ignori" and "Norphan!"
Article continues below advertisement
On Tuesday, West made an appearance at the Cannes Lions festival while Kardashian was in New York with their daughter. The next day, she flew into Nice Airport from New York, just hours after her husband West left town for Florence, Italy. West continued on to Miami from there, while Kardashian flew back to L.A., and meanwhile, baby North made the transcontinental flight from NYC to L.A. with a coterie of nannies, assistants, and security guards.
And on Twitter, fans were quick to criticize the parents' decision to leave their kid in the care of their employees and family members.
In response to a Kardashian tweet about Cannes, one Twitter user wrote, "Where's you're f*cking prop . . err I mean kid? #IgNori #Norphan #WorstMotherEver #BesidesKrisIMean"
"I feel bad for North #ignori," @sardshy wrote. "Baby is not a photo-op. Must b nice 2 pay sitters to watch child except for when it's convenient."
Article continues below advertisement
"How come Kim is never with her daughter #ignori," @Queen_of_typos wrote.
Kardashian told reporters this week that she and West would reunite with their daughter in L.A. For a first birthday party this weekend.
But it's not the first time she's faced claims of parental neglect.
In December, Kardashian took to Twitter to blast her critics, writing, "Bc I don't tweet or instagram my every move w my daughter means I am not with her 247? We share what we want."
"Or is it bc I go support my fiancé at every show & I post pix?" she continued. "When the baby goes down 4 bed or a nap, parents are allowed 2 work & support each other and maybe even have fun too."
Do you think Kim and Kanye are good parents? Let us know in the comments!