Exclusive
A New Low: Kardashian Critics Brand Kim & Kanye's Baby North West 'Ignori' Over Claims They Don't Spend Enough Time With Her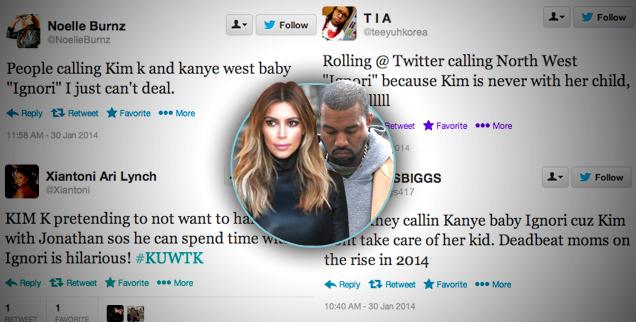 Kim Kardashian and Kanye West's daughter North West is only seven months old, but she's already a pro at weathering media scrutiny.
Just a week after Joan Rivers called the baby "ugly" and "in need of a waxing," North is under fire again from Twitter jokesters who've branded her "Ignori" over claims her parents don't spend enough time with her!
"Twitter calling North West 'Ignori' because Kim is never with her child …" user @teeyuhkorea wrote in an example of the posts.
Article continues below advertisement
Another critic, @Xian toni joked, "Kim K pretending to not want to hang out with Jonathan Chebanso she can spend time with Ignori is hilarious!"
And @Biggs417 wrote, "D*mn, they callin' Kanye baby Ignori cuz Kim don't take care of her kid …"
Such criticisms have been running rampant in recent weeks, since Kardashian and West were spotted vacationing in Miami and Paris without their daughter. But Kardashian has been quick to slam her detractors.
"U sound so ignorant," she wrote to one Twitter user. "Bc I don't tweet or instagram my every move w my daughter means I am not with her 247? We share what we want. Or is it bc I go support my fiancé at every show & I post pix?
"When the baby goes down 4 bed or a nap, parents are allowed 2 work & support each other," she continued, "maybe even have fun too."
In fact, Kardashian flaunted her closeness with her daughter this week, posting an adorable Instagram pic of the two snuggling.