Exclusive
Like Mother, Like Daughter: Kim Kardashian Wants Baby North On KUWTK But Kanye Says No Way!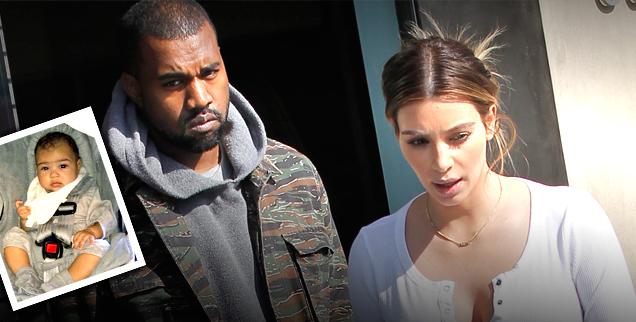 As ratings for Keeping Up with the Kardashians continue to plummet, show execs are looking in a new direction: specifically, North.
RadarOnline.com has exclusively learned that series star Kim Kardashian is being pressured to feature her daughter with fiancé Kanye West, North, on the show. But even though Kim thinks her daughters ready to join the family business, sources say that so far, Kanye's forbidden it -- even if that means the end of the show.
Article continues below advertisement
Once a ratings powerhouse, KUWTK has slipped in recent weeks, racking up a scant 2.56 million viewers for the Season Nine premiere, which is, down almost half-a-million from the Season Eight premiere back in June 2013, according to TV By The Numbers.
So recently, Ryan Seacrest, who produces the Kardashian reality shows for E!, "personally reached out to Kim and asked her to consider allowing North on the show, even in just a limited amount," the insider reveals.
"Kim really wants to put North on the show…" the source explains. "Viewers and fans of the show want to see Kim interact with her daughter, and how she is as a mother."
"Kim has always been an open book with her fans," the source continues, "but once Kanye came on the scene, that all changed. Kanye shuts Kim down whenever she brings it up."
Kanye "doesn't want his daughter ever to appear on Keeping Up with the Kardashians," an insider tells Radar. "He thinks reality television is tacky, and doesn't want North on display. He will be very happy when Kim is done with the show."
Article continues below advertisement
As a sort of compromise, however, the couple's summer wedding will be televised, as Radar has reported.
"Kim persuaded Kanye to let the cameras roll because E! will pick up most of the cost of the wedding," a source previously told Radar.
Plus, with the couple eyeing locations in France, says the source, "It's a lot easier for a network to deal with logistics of a foreign wedding than if it were just the two of them planning it."
A wedding could bring a new positive spin to the show, which has skewed negative in recent weeks. While the season eight premiere focused on Kim Karadashian and the news about her pregnancy and relationship with Kanye West, the season nine premiere focused on Kris and Bruce Jenner's split as well as Khloe Kardashian and Lamar Odom's marriage drama – two sad stories that played out on RadarOnline.com long before they were edited for TV!