Exclusive
Too Little To Mock? Joan Rivers Rips Kim Kardashian & Kanye West's 'Ugly' Daughter -- 'Desperately In Need Of A Waxing'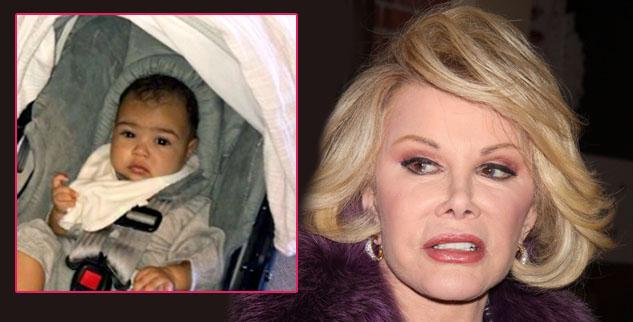 No one is safe from Joan Rivers' acid-tonge!
Not even Kim Kardashian's seven-month old daughter, North West, who the grand dame comedienne ripped in her latest stand up show.
Shocking the audience at the Saban Theater on January 17 in Los Angeles, the host of E!'s Fashion Police called the tiny tot "ugly."
The jab managed to get a few laughs and Rivers, 80, continued to explain how the Kardashians had recently been in the E! offices, including Kim and the baby.
Article continues below advertisement
"That baby is ugly... I've never seen a six-month-old so desperately in need of a waxing," Rivers ripped about the child dubbed Nori, much to the amusement of the audience who roared at the subsequent joke.
Mother-of-one Kardashian seems to have taken a page out of Rivers' comedy book: She recently defended herself against backlash after being accussed of grooming her daughter's eyebrows.
"Do people really think I would wax my daughters eyebrows so young? Come on, I'd wait until she's at least 2 1/2!" she joked on Twitter.