Low Brow: Did Kim Kardashian Wax Baby Daughter North's Eyebrows? You Be The Judge...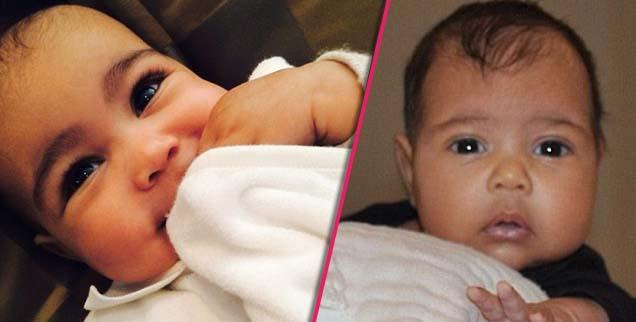 Article continues below advertisement
"Since you read all your mentions, why did u wax North's unibrow?" Twitter user @Cassaa0 wrote after Kardashian posted the pic. "She is only 6 months!!"
User @RebeloAlexa wrote, "Kim K definitely waxed her baby's unibrow."
And another, @mzstef89, wrote, "Did @KimKardashian really wax her kid's eyebrows? Wtf"
As the accusations continued to mount online, Kardashian issued a statement through her rep, slamming the reports as "completely false."
But she wouldn't be the first to do mommy-daughter grooming.
Teen Mom turned porn star Farrah Abraham has previously admitted to waxing her daughter, Sophia's, eyebrows while she slept when she was just 3.
Abraham defended her actions, telling Bethenny Frankel, "After that whole situation in the media, I actually got a lot of fan mail from girls who were younger, who did have unibrows and they only wished that their moms would have helped them."
Online, some fans agreed. User @justminxy wrote to Kim, "I wax my kid's unibrow. Will keep waxing them until they are old enough for permanent hair removal. My kid laughs!'
And @CSBBB wrote, "Kim Kardashian SHOULD wax this kid's eyebrows … geez …"
What's your opinion? Let us know in the comments!
Update: Kim also tweeted about the scandal this afternoon: