Get Bikini Ready For Summer Like The Stars! Dr. Shalini Kapoor Dishes On Everything You Need To Know About Laser Hair Removal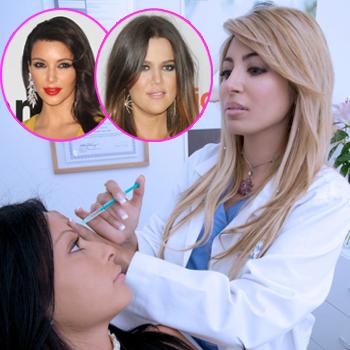 Hollywood's hottest stars are constantly photographed in their bikinis, so it's no surprise they have traded in their razors and waxing appointments for a more permanent hair removal solution to avoid body hair blunders!
Kim and Khloe Kardashian are just a few of the stars who have turned to Dr. Shalini Kapoor, Double Board Certified Eye and Multidisciplinary Laser Surgeon and Medical Director of LaserAway clinics, to get them ready for a little fun in the sun. RadarOnline.com spoke to the laser specialist about the latest technologies in hair removal, the benefits of going under the laser and the shockingly popular area that men are getting lasered away!
Article continues below advertisement
"Laser Hair Removal has come a long way, and now, thanks to advanced technology, offers minimal discomfort for the patient," explains Kapoor about how the technique has evolved over the years. "During the procedure, a chiller is attached to the laser hand piece that blows cool air onto the skin while the laser fires. This not only results in a more comfortable treatment, but also allows for a safer procedure, as the surface skin temperature never gets too hot, allowing laser energy to effectively reach the hair shaft and follicle to disable it effectively and safely."
And while only certain skin types could be treated years ago, now all skin types can reap the benefits of Laser Hair Removal due to different wavelengths and settings all in one laser system to customize a patient's treatment based on their skin type, hair color and unique physiology.
Why do the celebs prefer laser to other hair removal alternatives? Kapoor explains that with their busy and jet-setting schedules, they don't have to waste any time on shaving, waxing or depilatories, so long-lasting treatments with very little maintenance make more sense.
Article continues below advertisement
And while celebs are coming into the office all-year long, she reveals that it tends to get busy in the late winter or early spring, with everyone getting ready for the summer season.
Though it should comes as no surprise that the top three areas that female stars like to rid of hair are the legs, bikini area/Brazilian and the underarms, you may be shocked to hear what men are requesting!
"Male celebs are also now turning to laser hair removal more than ever as well, and frequently come to us for 'manscaping,' which focuses on lasering the back and shoulders, chest and abdominal area," she reveals.
Beach Bunny Bombshell! Kate Upton Shows Off Her Swerving Curves