Keeping Up With The Broken Marriages? Splits Between Khloe & Lamar, Kris & Bruce, Take Center Stage On 'KUWTK' Premiere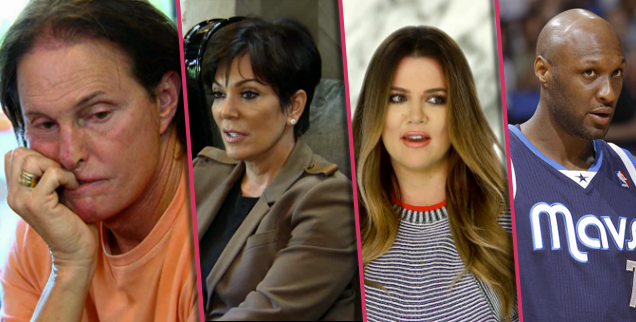 Keeping Up with the Kardashians had a downer of a ninth season premiere Sunday, as Khloe Kardashian and Lamar Odom's, and Kris and Bruce Jenner's, respective separations took center stage.
The family show explored the breakups that are already well known to RadarOnline.com readers, as Khloe and Bruce were both shown struggling with their marital pain. After Khloe and sister Kourtney went to their clothing boutique, DASH, Khloe was confronted by a swarm of paparazzi shouting rude questions about her troubled allegedly drug using basketball player estranged husband (Khloe has since filed for divorce).
Article continues below advertisement
"I can't look people in the eyes and I'm not the one who did anything," Khloe moaned on camera.
"My priority is Lamar's health and well being and I don't feel it's my place to address a lot of things," she said. "It's my job to protect him and to keep him as safe as possible and keeping him safe is by keeping me quiet."
She told Kourtney, "I've been putting myself aside to hopefully save somebody else's life. And now that I've come to terms that I can't, I have to move on with my life and that means changing a lot.
"I need to get my life in order."
Later, they visited brother to Rob's new place, where he moved after leaving Khloe and Lamar's house.
Khloe gave him a hug and apologized that he'd had to live in a "toxic environment."
Lamar hadn't called Rob, and Khloe revealed her husband got a prepaid phone that he only used for a few hours at a time!
And a sad Khloe holed up and watched the famous I Love Lucy grape stomping episode (also seen in Pretty Woman) in bed with Kourtney keeping her company.
Article continues below advertisement
Also on Sunday's episode, Kris was shown demanding that Bruce give up the lease on his Malibu man cave so he would live with her again.
But when Bruce returned to the Kardashian home, he complained to her that due to Kim and fiance Kanye West living there, "There's no room in the garage anymore. "I brought my stuff back here. Where the heck would it go?"
Bruce later told Kris "the energy is better when we're apart" so he'd extended the lease on his Malibu home.
"To be honest with you, I can't see going back," Bruce said, but also insisted, "I'm not looking to get a divorce."
Kris told him, "We both need to be happy. Life is so short."
Bruce said he was turning 64 and "I don't want to blow it because we're at each other's throats."
But the dad's biggest concern was his daughters with Kris, Kendall and Kylie.
At his beach house later, Bruce broke the bad news to the girls.
Article continues below advertisement
"I don't want to live like I have divorced parents," Kendall said.
"I haven't been treated well over there," Bruce said about his previous home with Kris.
Although Kendall wasn't happy, Bruce stressed, "Mom and I are doing better with some distance. I love you guys and we're still a family."
However, word about the split had leaked out and when the two girls met Bruce at the golf course, paps were taking pictures from the trees.
Bruce went after them. "Get the f*** out of here! You're on private property."
Kendall wanted to give them the finger and the Olympian agreed, encouraging his daughters to join him in flipping the photographers the bird!
After the proud family moment, Kendall concluded that her dad would always be there for her.
In a more in-depth family pow-wow with the whole gang, Bruce and Kris told them they were happy with the arrangement of him living at the beach house and "Nobody's getting a divorce."
Article continues below advertisement
Kris said, "We need you to understand we're better as friends."
"Why are you still married?! Get a divorce if you want to be friends!" anguished Kendall cried.
"I'm tired of dancing around the subject," Kendall then said to E's cameras.
Kris got teary-eyed and said, "We're trying to be really honest. It doesn't mean we can't be in each other's lives."
"We're always here for you guys," Bruce stressed.
When Khloe questioned the arrangement, Kris said, starting to raise her voice, "I'm not happy and he's not happy."
"Don't f***ing yell at me!" Khloe told her mom. "Don't f*** with me, because I'm the wrong one."
Kris said, "Life is too short."
But Kendall made the entire family depressed by saying, "We won't be siblings anymore." The family quickly set her straight!
Khloe calmed down and told the cameras, "I really do think they're better living apart."
They Really Did Say It! 50 Outrageous Kardashian Quotes
Meanwhile, Kim concluded, "Life is all about being happy. Bruce is still our dad and that will never change."
Article continues below advertisement
Kourtney asked the Jenners, "Do you guys care if you date other people?"
Bruce frowned and an awkward silence ensued.
The only person who was on top of the world on Sunday night's season premiere was Kim,
who has settled down with fiance Kanye and their daughter, Nori.
Transformed By Surgery: Kim Kardashian's Nip Tuck Obsession Exposed
"I love that they've been calling me the queen lately," Kim laughed about her social media profile. "I love being a mom."
Kim was showing off her new home to her sisters as it was being renovated to include a 70-foot pool and a music studio for Kanye. But she admitted the home wouldn't be done for a year -- and until then, they are living with Kris!
It was Kim who called yet another family meeting about the Jenner separation, this time including Bruce's sons Brody.
Watch the video on RadarOnline.com
Kim -- who also spent the episode worried about sister Khloe -- felt they should have gotten ahead of the media firestorm and told the Jenner boys about the new living arrangements. And everyone was concerned about Kendall and Kylie's welfare.
"Our family's strong. We will survive," Bruce said.
And as the episode ended at Malibu Rocky Oaks Vineyards, Khloe and Kris (joined by Kourtney and Kendall) mended their broken hearts by doing grape stomping like on the I Love Lucy episode.