It's All About Kim! Proud Mommy Kardashian Poses With North But Steals The Spotlight From The Baby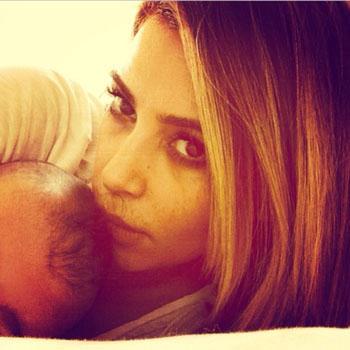 Kim Kardashian has been very selective in the pictures that she shares of her baby daughter, but in the first mother-daughter selfie the reality star hogs the spotlight by prominently displaying her own face and showing only the very top of little North West's head.
"Good morning," Kanye West's 33-year-old fiancée wrote on Instagram about the picture with her 6-month old baby.
This is only the 11th photo the proud mommy has shared of Nori, but instead of a close-up of the baby's face the picture is mostly Kim's face and just the top of the baby's.
Article continues below advertisement
Kim has shared other pics of the photogenic baby with her daddy proudly smiling but this is the first time she's been seen snuggling with Nori.
So far viewers of Keeping Up with the Kardashians have been disappointed that Kim and Kanye have kept their daughter off the reality show this season.
Do you think Kim is trying to steal the spotlight from her daughter with this picture? Tell us in comments.