Kim Kardashian Takes On 'Sasha Fierce' Look For Evening Out With Kanye West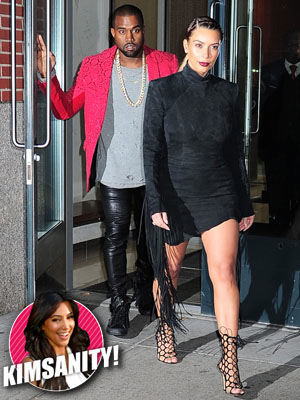 Is Kim Kardashian challenging Beyoncé for the title of Sasha Fierce ?
The Keeping Up with the Kardashians star seemed she might be, dressed in her warrior princess-best for a dinner out in New York Saturday night.
Kardashian wore a skin tight black dress, cut super short but with long sleeves and a high neck. From the back, an attached fringe cape went almost to the floor.
The reality star finished off the look with gladiator-style high heeled sandals.
Article continues below advertisement
For once, her baby daddy Kanye West was overshadowed on the fashion front. The rapper did the unthinkable -- sporting a red jacket he's been photographed wearing before!
Kardashian, along with their daughter, North , is following West around on his Yeezus tour, with back-to-back performances this weekend at Madison Square Garden.