Self-Proclaimed 'Strict Mother' Kim Kardashian On Prospects Of Having More Kids, & Why Reality TV Is The 'Perfect' Job For A Working Mom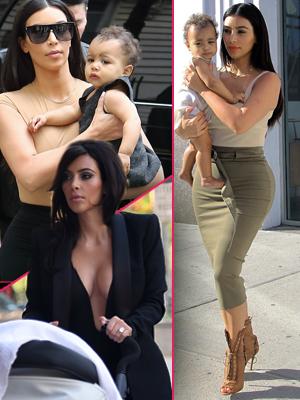 Just a few days following her daughter North's first birthday, Kim Kardashian's got a much better idea of her parenting style, the chances of adding to her brood, how she deals with the added responsibilities, and why she thinks she has the best job in the world when it comes to being a mom.
"I am a strict mother," the 33-year-old spoke told MailOnline at an event in Cannes, France, explaining the parental parameters she enforces when it comes to her adorable toddler. "I'm really fun and playful, but I'm really strict on nap time, and sleeping in her own crib."
Article continues below advertisement
"And maybe on weekends, she can come and sleep in the bed with us. But … I'm not crazy strict."
The newlywed — who claimed her marriage to Kanye West will be in a perpetual honeymoon period -- said she hopes she'll have more kids with the R&B superstar, having grown up with "a lot of siblings" herself.
"I don't know if I would really follow in my mom's footsteps and have six," she said, referencing "Momager" Kris Jenner. "That's a little crazy."
She said she's not sure how her mother and late father Robert Kardashian handled the burdens of starting such a big family at a young age.
"They were in their 20s and they weren't really thinking right," the socialite said. "I like a big family and I would definitely like one more and see how that goes."
The starlet said that her reality TV gig -- as one of the focal points of E!'s Keeping up with the Kardashians -- makes for "the best job," as she's never too far from her daughter.
Article continues below advertisement
"The beauty of having a reality show -- especially as we film at the house -- is that the baby's there," the social media superstar said. "So I actually get to be with her -- as opposed to if I had a job in an office, where I couldn't be in the same room with her while I was working."
She said that while North might not be prominently featured on the E! hit, "She's always there -- you might not see her face, but she's in there -- but for her own privacy, we just don't have her in that much."
The "Bound 2" beauty admitted she's "really lucky to have that advantage to spend so much time with her.
"I get to see her every single day. I'm there with the baby -- it's kind of perfect."
Kardashian, with multiple businesses to run and an endless slate of appearances, said she's had to make some adjustments since becoming a mom, but understands how important it is to make sure she's not burning the candle at both ends.
Article continues below advertisement
"To prioritize is really important and you have to be an organized person to get it all done and make sure you have enough time for everyone -- for my husband and my baby and for work; it's that simple, to prioritize and make some time for yourself.
"So I make sure I do take time for myself: I have lunches with my girlfriends, and do things that are important. Sometimes I see a lot of my friends just get taken over by their kids and their life, and that's great, but if you don't spend a little bit of time -- whether it's two hours a day, or one day a week to visit with your friends … it really helps a lot."
And while Kim might be a master of planning her day -- and knowing the perfect way to keep the public clamoring for more of what she's selling -- she's not yet drawing up a huge agenda for her young daughter just yet.
"She's just turned one! I haven't thought too much more," she said. "I'm pretty good about living in the moment."