It Was 'So Kanye!' Kim Kardashian Brags About How Groomzilla West Micro-Managed Their Wedding, Insists 'I Think We'll Always Be In The Honeymoon Period'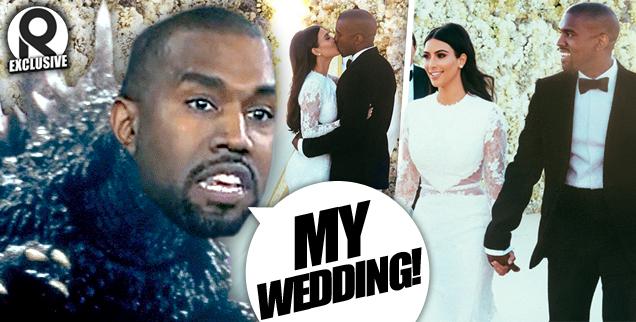 Most brides oversee their wedding from top to bottom, but not so for Kim Kardashian, who happily handed over the reins to her man, Kanye West, when it came time for her big day last month. As Radar has reported, the rapper turned groomzilla micromanaged every detail of the wedding — to the point that Kardashian didn't even know what to expect as she walked down the aisle! The reality star opens up about why her wedding day surprises in a new interview, and insists "we'll always be in the honeymoon period."
Article continues below advertisement
It was something old, something new, something borrowed and something WTF for Kardashian when she walked down the aisle. According to the reality TV star, she had no idea opera singer Andrea Bocelli was providing the soundtrack for her big entrance — and even thought it was a CD at first!
"Having Andrea Bocelli sing at our wedding as I'm walking down the aisle," she said during an interview at the Cannes Lions festival on Wednesday. "I didn't even know it was really him!"
"It was so Kanye to have him there," she continued. "I should have expected that."
"I got up to the altar and didn't even see him standing there," she said of the blind singer. "And I turned around when my sisters were helping me fix my veil, and I did a double-take. I thought it was a CD of him!"
But every day will be full of surprises for the new Mrs. West, she says, since she claims, "He seems to be able to get to surprise me and that's hard to do. The fact that he can surprise me is really good."
Article continues below advertisement
She told the Daily Mail, "I feel as though we'll always be in the honeymoon period. We always say we really like to treat each other like it's our birthday. I try to treat him like it's his birthday every single day. I think we'll always be like that. We always try to make life as fun and enjoyable as possible."
"We do travel, and work really hard," she admitted. "When we're together, and even when we're apart, we're always on the phone 24/7, just trying to make that time as memorable as possible."
Do you think Kim and Kanye are a good match? Let us know in the comments!