She Couldn't Wait! Kim Kardashian Shows Off Intimate Wedding Pics, Brags About Being 'Mr. & Mrs. Kanye West'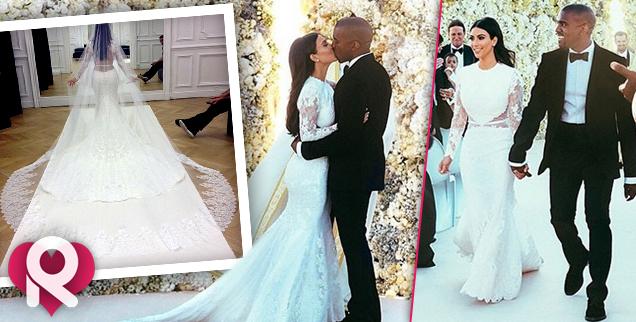 You knew she couldn't wait! Here she is, the most famous bride of the year, showing off her Givenchy wedding gown, her tuxedo husband and their "intimate" wedding photos!
Kim Kardashian shared two stunning photos from her Big Fat Florentine wedding to Kanye West, revealing the full length gown with sexy cut out sides and her demure hairdo that clearly trumps her last over-the-top-tacky wedding.
"Mr. and Mrs. Kanye West," Kardashian, 33, wrote when she posted the pics on Tuesday morning, showing her walk down the aisle holding hands with her new husband, 36, at Fort Belvedere.
Article continues below advertisement
And even though A-listers Beyoncé and Jay Z skipped the nuptials, and Rob Kardashian fled the country before his sister could tie the knot, Kim put on a happy smile as she tied to knot with the Yeezus rapper.
The picture also shows her mother Kris Jenner lovingly holding baby North West who is turned to watch her parents as they smile (yes, Kanye smiled!) down the aisle.
Another picture Kardashian shared on Instagram and via E! News showed her kissing her husband in front of a stunning wall of flowers, with a side view of her gown and she captioned the photo with a simple ring.