Queen Kim! Kardashian And Kanye West Left Their Wedding In A 'Royal' Horse Drawn Carriage While Cameras Rolled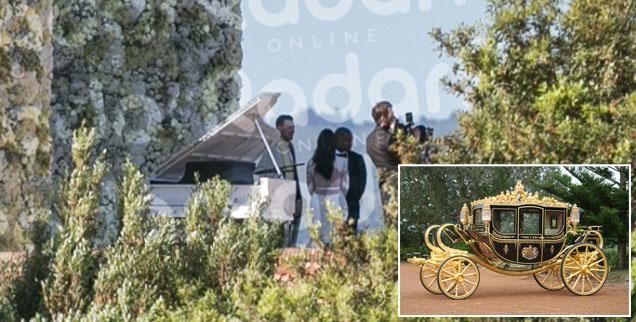 Kim Kardashian and Kanye West were intent in out-doing Kate Middleton and Prince William in staging their multimillion dollar wedding and they may have pulled it off.
With a brunch at Valetino's French chateau, a rehearsal party for 600 in the famed Hall of Mirrors at the Palace of Versailles, and the wedding ceremony at an historic site in Florence, they were already making their mark in the ultra-expensive nuptials department.
Article continues below advertisement
PHOTO: Kim Kardashian And Kanye West Marry In Florence
But just for good measure, the newlyweds were transported from their wedding location in a royal-style carriage!
Kimye can be seen smiling in the back of the brightly decorated horse drawn carriage. White plumes are attached to the top of the carriage and there's a uniformed driver and footman.
A videographer -- no surprise here to RadarOnline.com readers! -- captured the action on his camera as he ran immediately next to the carriage to capture the moment.
The footage, along with video shot at the moment the pair said "I do," will presumably be used on an episode of Keeping Up with the Kardashians or perhaps a wedding special.
Following the snub of Queen Bey, Beyoncé and Jay Z , who chose vacationing in the Hamptons over attending the wedding, Kardashian may be anxious to be viewed as the new queen of Hollywood..