Kimye Wedding Khaos! Big Fat Florentine Nuptials Featured Golden Toilet Tower Next To Dinner Tables, Guest Name Plate Misspellings PLUS Groomzilla Kanye Melted Down Over Lighting!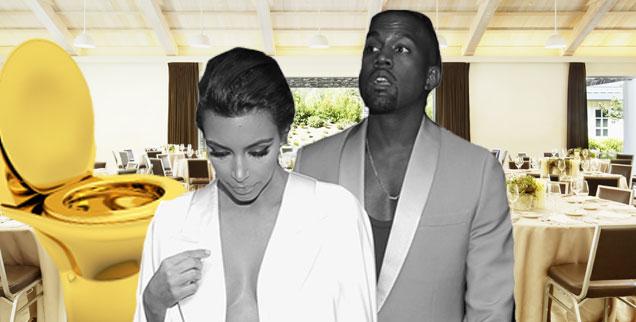 Newlyweds Kim Kardashian and Kanye West may now be honeymooning peacefully in Ireland, but the insanity still lingers after their multi-million dollar Florence, Italy wedding last weekend.
According to the New York Post, the over-the-top couple's most extravagant element wasn't Kardashian's Givenchy gown, but a 49-foot gold box containing the bathrooms.- located next to the reception dinner tables!
"Their toilet was the star of the show!"" an insider says, adding that Italian workers dubbed the atrocity the Torre di Bagni Oro (the Gold Toilet Tower).
Article continues below advertisement
The perfectionist pair even were responsible for some other humiliating bloopers, the paper claims. Italian craftsmen had engraved guests' names into the marble dinner tables to indicate seating arrangements- but reportedly misspelled many of the A-list diners' names.
"The seating was a disaster," the source huffs. "The only people who sat at their own seats were Kim and Kanye."
And notorious groomzilla West, 36, was in rare form, the eyewitness alleges, ordering the overworked crew to take down 80 moving lights that had taken four days to install just two hours before the nuptials.
"I'm in the center of this party, and I'm the only one people need to see," West allegedly told workers. "The rest of these people don't need lights on them."
Just one hour before, the source continues, West began sawing the elegant all-white bar, screaming that the set-up looked like it was from Texas.
After insisting raw wood panels be nailed to the front of the bar, West seemed satisfied.
"Now," he reportedly said, "it's art."
Do you think Kimye's wedding was tacky? Sound off in the comments!