When Irish Eyes Are Smiling — Kim Kardashian & Kanye West Enjoy Mountains, Bikes & Pints On Shamrock Honeymoon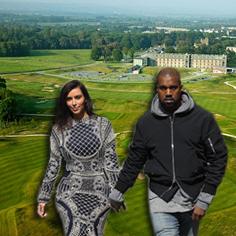 Kanye West and Kim Kardashian — in a move that might give the latter the luck she's never had in love — have enjoyed their Ireland honeymoon so far, as the couple everyone's been talking about have decompressed from their well-heeled wedding
Fergal Somers, manager of the facility the famous duo visited, confirmed the presence "two American VIPs" and four staffers.
The 33-year-old sex tape starlet and 36-year-old stage-crasher have engaged in activities such as mountain biking in Ballyhoura, County Limerick, a range near southeast County Limerick and northeast County Win the Irish range which spans heights more than 617 feet. There, the celeb couple got to look at scarce critters such as honeybees, red squirrels and foxes.
Article continues below advertisement
PHOTO: Kim Kardashian And Kanye West Marry In Florence
The Bound 2 co-stars eventually wound up in a pub where they tossed back a few Guinness pints.
"The guide said they had an absolute blast," Somers told Mail Online. "They were very generous with their tip — I was told it was four-figure … I don't know where they were going afterwards."
Somers later told ABC News that the husband and wife had a "a je ne sais quoi" quality and "were in awe of how clean and natural the mountains are."