Awkward! Kim Kardashian & Kanye West Shared 'Extremely Long' First Kiss With 'Tongue Engagement' At Italian Wedding — WATCH Wedding Guest Andre Leon Talley Tell All To Andy Cohen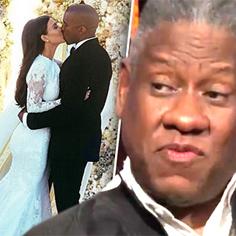 Article continues below advertisement
"Besides Kim and Kanye, who would you vote as 'Best Dressed' at the wedding?" Cohen asked, to which a bemused Talley insisted, "Myself."
Then, the questions got more hard-hitting, with Cohen asking, "Was it abuzz at the wedding that Beyonce and Jay Z did not attend?" and "What about Rob Kardashian leaving, were people talking about that?'
Talley insisted, "Not at all," to both. "I didn't even realize there was no brother there!" he later insisted.
Warmed up, he began to dish in earnest, revealing Kimye "had a first five dances. They did FIVE in a row."
And as for the first kiss, he said it definitely made an impression.
"It was EXTREMELY long which is probably a good sign," he said. "I would say there was probably tongue engagement."
"I think this relationship has a lot of legs," he told Cohen, "and I'm looking forward to the next baby, which we'll probably call South or South West."
WATCH the dish session here: