Exclusive
Kim Kardashian Was 'Absolutely Miserable' On Irish Honeymoon & Just Wanted 'To Shop' -- 'The Idea Of Going To Museums Just Bored Her To Death!'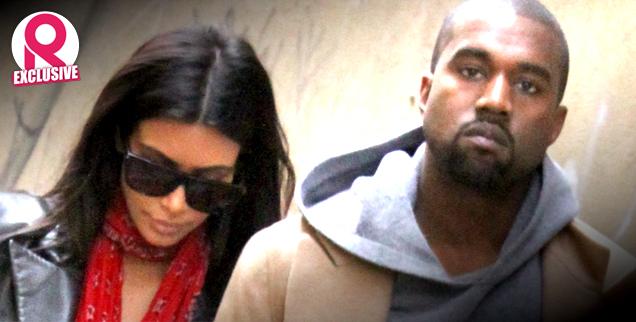 Kim Kardashian admitted to momager Kris Jenner during phone calls from her Irish honeymoon with Kanye West that she was miserable and complained that the Emerald Isle didn't have first class shopping the reality starlet was accustomed to, RadarOnline.com is exclusively reporting.
The Yeezus rapper surprised his bride with a honeymoon to Ireland "even though both had already spent time there before. It was also where Kris and Bruce Jenner spent their honeymoon. Staying at a five star resort in Cork, Ireland, wasn't enough for Kim," a source told Radar.
Article continues below advertisement
"She complained during phone calls to Kris that she was bored and just wanted to go shopping, but the lack of high end retailers really irked her. Kanye did plan a bike riding outing, but they brought two assistants with them."
Furthermore, the source claims Jenner urged the new mother to just go with the flow, but Kardashian wasn't into it.
"Kris tried to tell Kim to just relax and enjoy it, but she wasn't having it. Kanye had planned an outing in Dublin that included a private tour of Trinity College, but Kim persuaded him not to go," the source said.
"The idea of going to old museums as Kim says, would have just bored her to death. All she wants to do is shop. There isn't a lot going on with her other than that."
The 33-year-old sex tape starlet and 36-year-old stage-crasher engaged in activities such as mountain biking in Ballyhoura, County Limerick, a range near southeast County Limerick and northeast County Win the Irish range which spans heights more than 617 feet. There, the celeb couple got to look at scarce critters such as honeybees, red squirrels and foxes.
Article continues below advertisement
Indeed, the honeymooners even visited two different movie theaters in one day while in Ireland.
Their cinematic outing was documented by theater workers and onlookers via social media, with locals wondering what drew the mega-stars to the small Irish town best known as the home of two prison facilities.
Groused our source, "Only Kim Kardashian could go to one of the most beautiful countries in the world and instead of experiencing local culture, would rather go to the movies.
"How pathetic to be so small minded. Two different movie theaters in one day, really? If Kanye isn't concerned about Kim's obsession with shopping he should be now!"
On Sunday, Kardashian landed back in Los Angeles, sans West.