The Summer Of Sexy Selfies? Kim Kardashian Shows Off Bikini Bod From Exotic Mexican Beach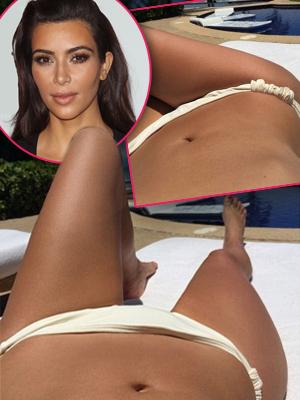 It's Kim Kardashian's world, we just live in it.
The 33-year-old socialite posted two sexy bikini pics she took of herself Thursday, as she enjoys a post-honeymoon vacation in Punta Mita, Mexico, calling the lazy day on the beach "tan time."
The newlywed reality star — who's in the gorgeous location with husband Kanye West, 37, is preparing to celebrate her daughter North's first birthday on Sunday — has clearly shed, and kept off, every pound she gained during her pregnancy with her first child, answering back to critics who incessantly knocked her pregnancy fashions and looks.
Article continues below advertisement
Perhaps Kim's selfies were also her response to recent pics of another Hollywood socialite/marketing machine whose life has been documented by reality cameras, one Jessica Simpson. The blonde beauty has been showing off a sleek, chiseled new look as of late, and some insiders say it might have sparked a fire in the fiercely-competitive Kim.
"Kim has been watching Jessica's phenomenal body transformation very carefully," the insider said. "Jessica's latest triumphant pictures show that she's achieved a streamlined shape that has Kim in tears of envy."
Stay with Radar for the latest on Kim Kardashian.