#MostTalkedAboutCouple Breaks Record! KimYe Wedding Photo Receives Most Likes Ever On Instagram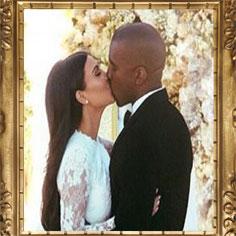 If you think receiving 50-plus likes on your Instagram photo is a lot, think again.
Kim Kardashian's photo of her first kiss as husband and wife with Kanye West has officially broken the Instagram record for most likes.
The picture, which was posted three days ago, has received more than 1.98 million likes, and continues to climbs. The photo has ousted Justin Bieber as holder of the top spot.
The "One Time" singer previously held the record, receiving 1.82 million likes for a photo that showed ex-girlfriend Selena Gomez hugging him from behind, but Instagram followers must like KimYe a little more!
Article continues below advertisement