Exclusive
Picking Shamrocks, Playing In The Mud & Movie Nights — Inside Kim and Kanye's Low-Key Irish Honeymoon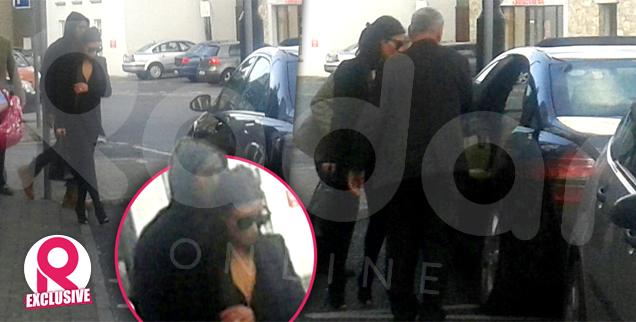 It's back to reality for Kim Kardashian and Kanye West, as they jetted off from their Irish honeymoon in their private plane Thursday. But they're taking the luck of the Irish with them! The newlyweds got down and dirty and relaxed in a shamrock field during a honeymoon biking excursion in Limerick, RadarOnline.com has learned, even taking a few of the lucky green plants home with them as a memento of their romantic time on the Emerald Isle. Only RadarOnline.com has all the details from inside their low-key vacation as husband and wife.
Article continues below advertisement
On Wednesday, Ballyhoura Bike Tour manager Fermal Somers got a call that six VIPs wanted to come out to hit the trails during a morning on the mountain.
"We got started at 8 am and the sun was shining and it was a beautiful morning," said Somers of Kimye's adventure.
The happy couple, who wed in front of 200 guests at Forte Di Belvedere last Saturday, got a special treat: there was a wildlife biologist on hand to show them all the natural attractions.
"The guide showed them all the birds," Somers revealed. "We saw foxes, mountain hares, a rare hen harrier, six species of butterflies, a swarm of honey bees, and a young doe and her calf."
After the one-hour bike ride, the Wests took a leisurely hour and a half walk and then enjoyed a 30-minute picnic courtesy of local restaurant The Old Bake House, which serves all-organic fare.
Somers noted that the couple chose the destination for their first days together as a married couple since West had been to County Cork during a concert and Kardashian's mom Kris Jenner and stepdad Bruce honeymooned there after tying the knot.
Article continues below advertisement
"They were very keen to experience what we had to offer," Somers said of his conversations with the power pair.
"They were in total awe about the wildlife. They hadn't experienced that before and how the trails were situated in the environment and how sustainable it was around the infrastructure," hecontinued. "There was no sign of harm given the surrounding commercialism. They were in awe at the beauty of the whole area."
PHOTO: Kim Kardashian And Kanye West Marry In Florence
They even got a crash course in biking—literally.
"They both had topples from just going to fast around the bend. So they came out with a couple muddy wet patches on their clothes and wet tushes. But there was a lot of laughter," said Somers, with a chuckle.
They were also on the hunt for leprechauns and clovers.
"We searched for four-leaf clovers in the shamrock field, but didn't find any," he said. "But they took home a bag of shamrocks when they left and we showed them how to dry and preserve them."
Article continues below advertisement
After recouping from any bumps and bruises during their stay at 17th century Castle Oliver and the 18th century Ballyfin Demesne in Ireland's midlands, as confirmed to RadarOnline.com by the Tourism Ireland Office, the pair took in a double feature date night out in Portlaoise where they were spotted coming out of a screening for X-Men: Days of Future Past.
"Me and my friends came out of the cinema and were standing across the road from it," eyewitness Stephen Ahernetold RadarOnline.com of the small 10-person crowd who got a brief glimpse. "There was a guy in a suit who was their driver and a Mercedes Maybach parked outside. Then Kim and and Kanye walked out and got in the car. Kanye waved at us as they drove by."
Even though local hair stylist Katie Ronan couldn't believe her eyes, she was quick enough to take some snapshots of her brush with celebrity after closing down her shop just for the occasion.
"We were hearing people on Facebook saying that they were in the cinema so me and my sister closed my salon just to see," she told RadarOnline.com. "And we waited outside, then they came out and rushed into a car. Kim kept her head down. I shouted congratulations and when they were driving off Kanye waved at us… so star struck!"