Exclusive
Toxic Love: Selena Gomez's Grandfather Reveals Why She Just Can't Quit Justin Bieber -- 'We Worry … I Think She Loves Him'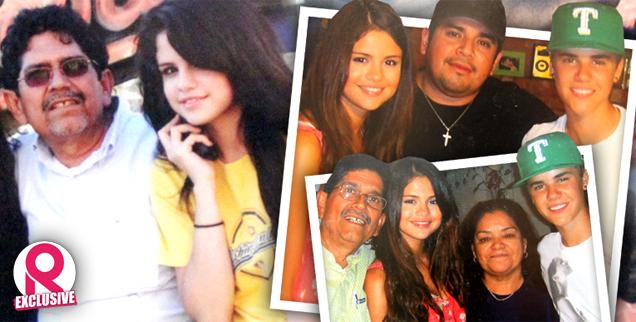 As Justin Bieber and Selena Gomez's tumultuous relationship continues to play out over coy Instagram posts and loaded tweets, Gomez's concerned family is speaking out over fears the young couple's toxic love affair has gone on for far too long. In an exclusive interview from his home in Grand Prairie, Texas, Gomez's grandfather Ricardo Gomez tells Radar, "We worry … I think she loves him."
Bieber has been spotted partying with models in Cannes in recent days, with a jealous Gomez reportedly writing on Instagram about how "He'd rather be with models." But her grandfather insists the couple are still in contact.
Article continues below advertisement
"They still go out," Ricardo, 59, tells Radar. "They still go out." But that doesn't mean it's a perfect match. In fact, as Bieber's bad behavior continues to make headlines, those close to Selena worry that he's no longer the man he once was, and that Selena should keep her distance.
Ricardo explains, "We have known him since he started and he was the real bright young man." Hanging with the family during visits to Ricardo and his wife Mary's Texas home, Bieber quickly bonded with the couple, even earning the nickname "flaco," or Spanish for "slim."
"He was just a nice little fella," Ricardo says. "Totally different from what he is right now. … It just makes me feel upset because he used to be a real nice boy."
Indeed, Bieber's DUI arrest in Miami earlier this year "was just a shock," Ricardo says. "He went out of his head with the people who are surrounding him."
"We worry," Ricardo continues. "We worry not just because of the relationship with Selena. We worry for him. We hate to see him in trouble."
Article continues below advertisement
According to Ricardo, that applies to Selena as well. The last time she opened up to her grandparents about her relationship, he says, "Selena was telling us that she didn't want to be with him because of what he was doing lately, and that he was getting into drugs and that was something that she don't like."
"Lately we are upset about his behavior," he continues. "He's been getting into gtrouble lately a lot. I really don't know why. We blame it on the people they hang around with, his friends are bad influences."
Ricardo claims that Justin's inner circle see Selena as "a good influence for him," and that they "say it is good for her to be next to him … Keep him out of the bad habits."
But it's increasingly clear that if that were the plan, it's not working. As Bieber's bad behavior continues to mount, "I think everything, it's got out of his hands," Ricardo says. "…He's just at this age, everything he does is about having fun. He doesn't think of the consequences, I think because he's so young."
Article continues below advertisement
"He is talented, but I think he can do better," Ricardo insists, "and I think if he puts some effort into it I think he will. He needs to be Justin Bieber, not imitage nobody else. We feel that is what he is doing, imitating the wrong people.
Despite all his faults, however, Ricardo and Mary still believe that Bieber, 20, and Selena, 21, just might make it after all.
"I think she loves him," Ricardo admits, confessing, "We'd be happy if Justin proposed because she's happy with him. She knows that whatever she decides to do, I mean we stay behind her."
"I say to her, 'You're a young lady. You know what you want. …Whatever you like, I mean just go for it,'" he says. "'We're not going to get in your life that way, it's too private.'"
"We love her and we like Justin," Ricardo admits. "Because like we say we know him from the beginning and we always thought it was a good couple, a real bright couple, and they were an example for most. They were always in the news, everywhere had them as an example."
Do you think Bieber and Selena are meant to be or should they throw in the towel after all these years? Let us know in the comments!