Exclusive
Justin Bieber's Criminal Defense Attorney Tells Radar: Prosecutors Have Offered NO PLEA DEAL - Preparing For Trial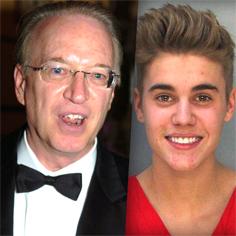 Justin Bieber's famed criminal defense attorney Roy Black exclusively tells RadarOnline.com that contrary to prior tabloid reports, prosecutors have offered NO PLEA DEAL to the 20-year-old singer's DUI and drag racing Miami case.
In fact, Bieber's legal team is vigorously preparing for the upcoming trial.
"The state has not offered any plea deal. The judge asked in court yesterday if an offer had been extended and the prosecutor said no. All I can say is that the case is set for trial and we are preparing for it," Black told RadarOnline.com.
Article continues below advertisement
Bieber — who didn't have a valid driver's license on his person at the time of arrest, police said — cursed at the officers who initially pulled him over, police said.
When he was taken into custody at 4:30 a.m., an incoherent Bieber kept his hands in his pockets and resisted arrest without violence.
Among Black's high profile cases, he successfully defended William Kennedy Smith on rape charges, his representation of conservative radio commentator Rush Limbaugh on charges he misused the prescription painkiller OxyContin, Kelsey Grammar, racer Helio Castroneves and Girls Gone Wild creator Joe Francis.
Under Florida law, it's against the law for anyone under the age of 21 to have a blood alcohol level of .02 or higher.
Toxicology test results revealed the Biebs had traces of marijuana and Xanax in his system at the time of the arrest.
According to Black, Bieber will attend the trial but added with wry sarcasm, "But I can't promise Selena Gomez will be there."