Justin Bieber Arrest -- 10 Latest Developments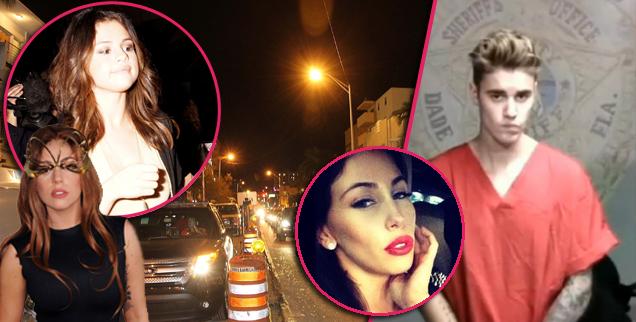 The fallout of Justin Bieber's arrest on DUI and drag racing charges in Miami Beach continued at a fast pace Friday, and and we've got 10 new developments in the ongoing story, right here on RadarOnline.com.
10. A Sexy Shoulder To Cry On
A 30-year-old Miami model named Carmen Ortega opened up to the NY Daily News about a candid hour-and-a-half chat with the "Baby" singer two days before the arrest, painting a picture of a celebrity collapsing under the weight of their own fame. "He was saying that all this attention is ruining his career -- he was really sad -- he said, 'I hate it that people make out I'm a bad guy, there's so much media pressure. I'm not a bad guy, I'm just being me.'" While the "Boyfriend" singer seems cocky and confident on the surface, Ortega said his bravado faded away behind closed doors. "He doesn't know what his next move should be -- he said he can't do anything right."
Article continues below advertisement
9. Monster Mash
As someone who can understand the rocket ride from obscurity to international superstardom, Lady Gaga was sympathetic toward the Biebs' plight Thursday, pledging her support to her pop peer with a message on her website. Addressing the ongoing jokes and punchlines directed at the falling star, the 27-year-old "Bad Romance" told her fans to "be supportive of Beliebers … they deserve, just like any other fan, to feel strong for each other and Justin so they can continue to share the bond they have through music. We may not understand everything celebrities do because there's only so much we see, but Justin and Beliebers were 'born this way' too. Let's spread love and compassion to Beliebers today. That is what we are all about."
8. Can't Hold Him
Another supportive voice from the music community was "Same Love" rapper Macklemore, who noted that he himself would have undergone the same scrutiny had he made it big in his teens. The 30-year-old Seattle icon told the AP, "I think it's challenging for anybody to have your life be a spectacle and to be challenged and critiqued and judged. And it's definitely hard if you've never had any normalcy in your adult life or in your teenage life. I think that's very challenging. I think if I had blown up at 22 or 23, I think you would have seen me do some in public."
Article continues below advertisement
7. Another Expert Weighs In
Ace music exec Clive Davis, who closely associated with the late Whitney Houston, a pop superstar felled to drug use, told the AP that while he doesn't know Bieber personally, he knows from experience what a perilous path recreational substances can lead to for someone with the world at their fingertips. "I don't know what he's involved in," Davis said Thursday. "All I know is if drugs are involved and I hope they are not, they're lethal."
6. I Love You, Man
Bieber's manager Scooter Braun -- perhaps fearing he won't be able to give his main act's tickets away if things continue as they have been -- posted an inspirational quote on his Instagram page, clearly aimed at his wayward protégé. It read, "What defines us is how well we rise after falling." The man many credit as the brains behind Justin's soar into the stratosphere, addressed Bieber in a public message, tweeting, I "love you and i will act in the manner of someone who truly cares. that is all I have to say. thanks for all those concerned."
Article continues below advertisement
4. The "Baby" Singer Sheds A Few Tears
The 19-year-old was "crying his eyes out" following his bail hearing, one onlooker told People. The entertainer certainly ran the gamut of emotions throughout the eventful day, as police painted a picture of defiance, while he cracked a snarky smile in his mug shot. Just before his meeting with the judge, an insider told us Bieber was "giggling like a teenage girl".
Article continues below advertisement
3. Alternate Approach
After repeated attempts in vail to get the singer into a rehab facility, the singer's inner circle is floating the idea of intensive psychotherapy to him, according to online reports. Bieber, in the past, has flatly reused to even discuss the prospects of entering a rehab clinic, but seems to have more of an accepting attitude toward the idea of going into therapy.
2. The Storm Before The Storm
Prior to Bieber's arrest, sources told the NY Post that the pugnacious pop prince was holding court in Miami nightclub Set with his flunkies, losing his shirt to reveal his buff bod and ink. "Justin was sitting at a VIP table in the corner ordering Red Bulls with his friends," the source said. "He took his shirt off and was sitting there shirtless." The insider told the paper that after a gaggle of gorgeous gals approached the singer and his pals, he chatted up stunning Chantel Jeffries, leaving with her in the yellow Lamborghini he was driving in when cops pulled him over.
Article continues below advertisement
1. Business As Usual
Bieber's ex Selena Gomez didn't seem to moved by her one-time love's self-destructive streak, enjoying a laugh-filled night out with another young performer who, like the Biebs, had her share of substance issues and rowdy behavior herself: Demi Lovato. The girls, both 21, went out to dinner at West Hollywood's Craigs, and seemingly had a great time. If Selena doesn't seem too upset, it doesn't come as too much of a shock, as we exclusively reported that Bieber had recently inundated her with a series of arrogant, profane texts, and unsolicited X-rated selfies.