Exclusive
Fasten Your Seatbelts! Inside Rihanna's Wild Jum-Booze Jet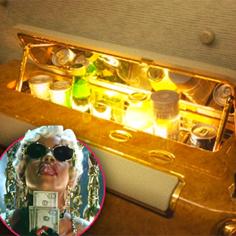 Ready for lift-off? Rihanna certainly was during a recent flight stocked with supplies to ensure that she didn't have to fly the sober skies. The hard-partying singer gave fans a glimpse inside her private bar at 35,000 feet on Instagram Monday night.
En route from New Zealand to her next show stop in South Africa, the "Pour It Up" singer was doing just that as she made her way across the world.
"Can't tell if Rihanna's assistant @jennnrosales is more geeked about the personal minibar, the 130-year-old Hennessy on the bar menu, or the lounge bar sitting in the middle of the plane drinks free all flight!" the singer bragged.
Article continues below advertisement