Exclusive
Fan Fury After 'Glassy-Eyed' & Boozed-Up Rihanna Turns Up 80 Minutes Late To Australian Concert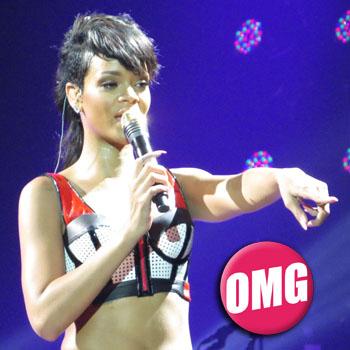 Just a few shows into the latest leg of Rihanna's Diamonds World Tour, the singer is apparently going off the rails. After showing up 40 minutes late for a lackluster concert in Perth, Australia, on Tuesday, she doubled the delay on Thursday night in Adelaide, appearing 80 minutes late, 'glassy-eyed' and 'obviously' drunk, according to one reviewer.
"When she finally arrived, it was obvious Rihanna had been enjoying a few sherbets Australian slang for beers backstage," a reviewer for NovaFM Australia wrote.
Article continues below advertisement
"If her glassy eyes didn't arouse suspicions, then her constant crotch grabbing and lack of actual singing would have given the game away," the writer, Tobias Handke, continued. "Not that Rihanna didn't give her vocal chords a good workout, but throughout the concert, particularly during the first half, she relied on a backing track and the harmonious support of her backup singers, while she concentrated on her dance moves."
In sum, she was not worth the wait according to several fans, who aired their disappointment on Twitter: