Raunchy Rihanna Parties 'Til She Drops, Boozing & Grinding With Girls Until Dawn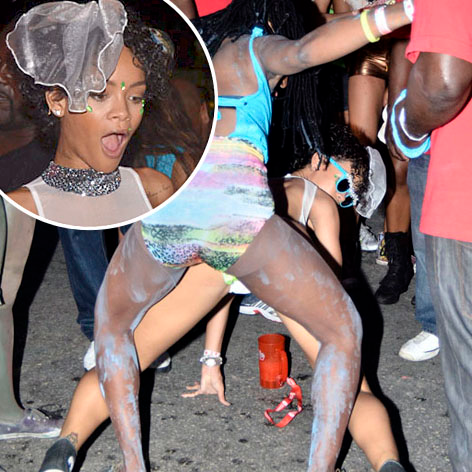 Back home in Barbados, Rihanna got her party on -- and then some -- Saturday morning.
The singer was out in the crowds for the Foreday Morning Jam from midnight until 6 am Saturday.
Wearing a costume that looked something like a monokini, Rihanna danced, got down on all fours and let a variety of girls grind on her, enjoyed more than a few beverages, and ended up being carried away on her bodyguard's back.
Article continues below advertisement
Someone, she's not sure who, painted her legs during the hard-partying bash in Bridgetown. Others added to her get up with pieces from their own costumes.
"Woke up in paint and a veil from parting in de street all morning," Rihanna told her 30 million Twitter
followers Saturday afternoon.
As RadarOnline.com has been reporting, Rihanna's Diamonds World Tour has been in chaos, with the 25-year-old frequently two hours late for shows and appearing drunk on stage.
But her mentor and record label boss, Jay Z, says he has no intention of intervening.
"I can't intervene. I can give advice when asked, and that's it," he told DJ Angie Martinez. "I can provide information and then life has to play out. Life has to happen."